Qantas kangaroo and logo get makeover in preparation for new aircraft arrival
Qantas has revealed an update to its iconic kangaroo and word mark.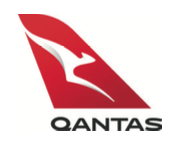 Qantas has once again updated its iconic kangaroo brand mark and logotype as part of the preparation for the Boeing 787 Dreamliner entering its fleet late next year.
The new look also extends to new type for the 'QANTAS' and 'Spirit of Australia' text on all branding and planes in the fleet.
The new design smoothes the lines and adds a silver streak to the previous, which was introduced in 2007 to coincide with the introduction of the Airbus A380.
The new design was overseen by Qantas consultant designer Marc Newson, and was made in partnership with design agency Houston Group.
The new design will appear across the Qantas network starting today with digital assets, signage and advertising. Updating branding on aircraft will be sequenced with scheduled re-paints, to be completed in time for the airline's centenary in 2020.
"Aircraft tails are fantastic canvas to work on and the Qantas logo is one of the most recognisable in the world," says Marc Newson.
"This redesign aims to retain the fundamental essence of the flying kangaroo but also move the brand forward."

Qantas also today unveiled what passengers onboard its flagship 787-9 Dreamliner can expect when the aircraft arrives in a year's time.
It will seat 236 passengers and feature two self-service bars so business and economy passengers can socialise and help themselves to drinks and snacks inflight.
It also boasts lower CO2 emissions as a result of lower fuel consumption and state of the art engines which reduce nitrogen oxide emissions by up to 20%.
Smoother ride technology and a holistic approach to cabin noise quality aims to make for a more comfortable ride.
"When we looked at the history, we found that the logo has been updated around the time of a game-changing new aircraft joining the fleet. It's a tradition that goes back to the Lockheed Constellation in 1947, the B747-300 in 1984 and the A380 in 2007," says Qantas CEO Alan Joyce.
"A fresh brand helps symbolise the new era Qantas is entering as we head towards our centenary. It's an era of new destinations, new technology and a new standard of service."