Rebel rebrands to black and yellow to tackle premium market
Rebel Sport has unveiled a new look as part of efforts to revitalise the brand and positions itself in the premium end of the sporting good retail market.
The new brand identity, developed by branding and design consultancy Hulsbosch, includes a new logo, store redesigns and new brand executions across all aspects of the shopping experience, both online and off.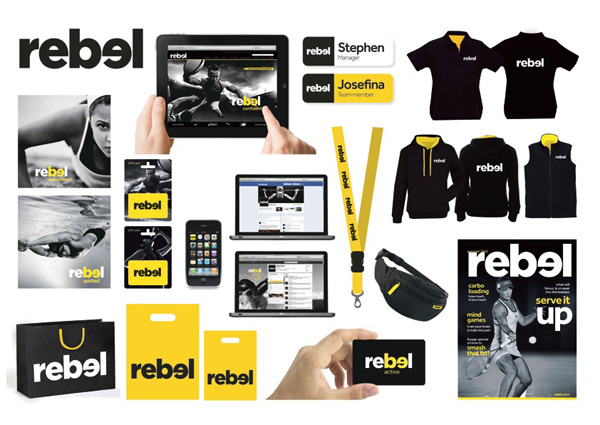 It aims to reposition the business as a premium sports retailer while increasing its share of active sports enthusiasts and growing the market among less active female consumers.
The brand's new livery is yellow and black, with brand awareness of the Rebel name deemed strong enough to warrant dropping the word 'sport' from the logo and the second 'e' flipped to communicate the spirit of competition.

Underpinning the redesign is the idea of striving for one's personal best, managing director, Rebel Group Limited, Erica Berchtold says. "Rebel's new look stores and identity articulates our commitment to becoming Australia's leading and most inspiring sports store destination."
This ethos will also steer the overall brand vision for Rebel and be embedded within the internal culture of the business.
Jaid Hulsbosch, director, Hulsbosch adds, "As an established 27-year-old business it was important to identify the values of the Rebel brand and the core assets inherent in its graphic identity. With this understanding, we worked on the idea of being the best you can and applied this as a brand attribute that carried meaning and relevance through to its customer base."
The first of the new stores has opened in Sydney's Brookvale with plans to roll out the new design to four more stores in Sydney and Melbourne by the end of the year. The roll out is due for completion in 2017 by which time a further 185 stores will have been refitted with the new look.
McCartney Design worked with Hulsbosch to create the new store fit out.
Rebel Group's value brand retailer, Amart Sports has also undergone a brand repositioning the low-cost end of the market with messages focusing on community, value, product range and enthusiastic participation.