Obama can't keep up with Kardashian, but Kerr can
Kim Kardashian and a pair of vampires sparked greater interest among Yahoo! search users than Barack Obama, while over on Bing Miranda Kerr swatted aside all comers to claim the title of most worthy of further exploration.
However, despite Australia's obsession with airbrushed socialites, the London Olympics prevailed as the most searched topic overall for 2012, the only entity able to hold the baying hounds of celebrity worshippers at bay. (Google will release its list in a few weeks).
On Yahoo!, socialite and entrepreneur Kardashian managed to claw her way to the top of the celebrity pack, her admirers more dedicated even than the merciless hordes of Justin Bieber's blubbering tween army.
She ranked second on Yahoo!'s list thanks no doubt to her tendency to reveal every minor detail of her private life, including her pending nuptials with controversial rapper Kayne West. May their union be long lasting.
Power couple Kristen Stewart and Robert Pattinson were the only other celebrities to make the top 10 on Yahoo, albeit as a combined entity, on the back of the conclusion of Twilight and Stewart's widely-reported infedility.
Apple was once again a mainstay on the lists, its standing elevated this year by news of its soaring stock price and multiple product launches. It ranked in third place on Yahoo!'s overall list, while first for news topics on Bing.
Natural disasters were prominent search queries for the year, with Hurricane Sandy and earthquakes in Indonesia and Iran amongst the most popular searches on Yahoo!.
Yahoo's most popular searches of 2012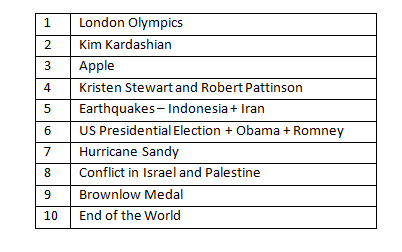 Miranda Kerr was the most 'binged' Australian for the second year running, and according to the Microsoft-owned search engine outstripped the London Olympics, Obama, Jennifer Hawkins and even Keith Urban. Bing only released its rankings by category, and is yet to provide an overall ranking.
Also on Bing, Tony Abbott took the cake politically, ranking ahead of Kevin Rudd who still managed to rack up double the search queries of Julia Gilliard. And diet of the year went to the Mediterranean diet, closely followed by the Dukan diet and Chocolate diet for those committed to shedding those unwanted kilos in 2012.