Ryan Reynolds spoofs an air safety video for British Airways and Aviation Gin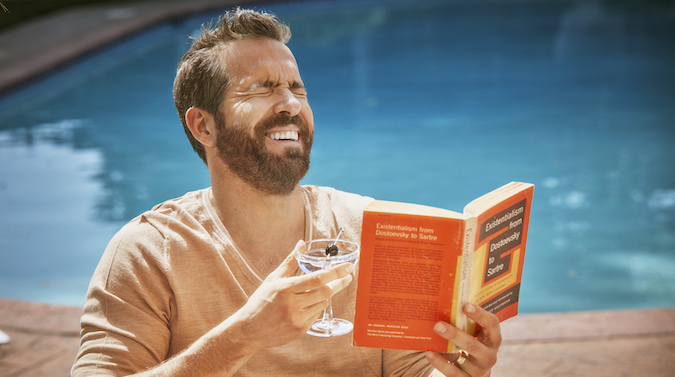 It's always time for a gin, and on British Airways' flights, now you can have one anytime. British Airways has collaborated with Aviation American Gin to make the gin available on all flights, no matter the distance.
The popular gin, founded in Portland, Oregon, was bought by Canadian actor Ryan Reynolds in 2018. Reynolds became the owner and the face of the business, and launched it into mainstream success. 
Aviation Gin was sold by the actor in 2020 for an eye watering $660 million US dollars. Sale aside, Reynolds has remained the face of the company. And, he's been known to bring his comedic film skills into the advertising world. 
In the latest campaign, Reynolds spoofs a typical airline safety video. To celebrate the partnership with British Airways, the new spot stars Reynolds as the cabin crew. But, in lieu of the typical safety instruments, there is Aviation American Gin.
From inflatable gin bottle life rafts, to gin instead of oxygen, the spot encompasses the tongue-in-cheek character synonymous with Reynolds. 
"It's no secret that I love Aviation Gin. I've tried every gin on the planet and it is, hands down, the best. Also I don't recommend trying every gin on the planet, just stick with this one", says Reynolds. 
The gins are now available on all British Airways' flights. Check out the new spot below.