Shit mates don't say: Cancer Council targets men's health with viral video parody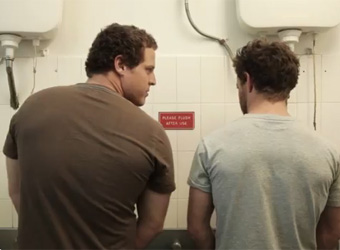 A new campaign for the Cancer Council of NSW takes a serious men's health message and implants it into a comical viral video in a bid to get through to hard-to-reach men.
'Shit mates don't say', created by agencies Cicul8 and Projucer, puts a new twist on the 'Shit girls say' YouTube skit, promoting the idea that it's what's not being said that's the problem when it comes to men and cancer.
Research from the Cancer Council shows that men are 84% more likely to die from cancer than women, with lifestyle factors and a general unwillingness to discuss health problems major factors.
Associate professor David Smith from Cancer Council NSW says the campaign is the first male-focussed campaign the Council has launched. "We're talking to men in a language they understand… It's about getting them to talk about the issues, think about their health and getting them to start the conversation."
The video is compilation of a bloke saying out-of-the-ordinary things to his mate, including complementing him on his flow at the urinal, swearing off red meat and expressing his love for organic food, moisturiser, Prius cars, almond milk and zumba.
It closes with the line, "Your mates don't say shit like this. But a healthy talk could be the first step in preventing cancer."
To leverage the past success of the 'shit-people-say' memes, a consumer-generated feel was a crucial part of the creative, according to creative producer and co-founder of Projucer, Joshua Capelin.
"The piece was deliberately not over produced, including limited post production so as to appear citizen made, thereby increasing the authenticity of the message," Capelin says.
To deliver the hard-to-convey health message to men in a positive light, it was important to embed it subtly in the execution alongside the pay-off of entertaining content, Capelin adds. "We hope some of the lines are recalled and seep into everyday conversations men have at work and during manly gatherings."
The campaign is supported by a website that includes health tips and facts on cancer.