Skytrax 2014 World Airline Awards: Cathay Pacific Airways voted world's best airline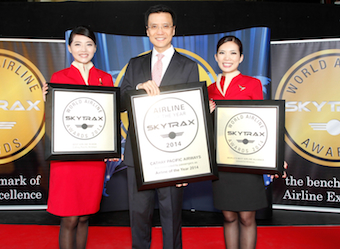 Cathay Pacific Airways is the best airline in the world for 2014, having moved five places up the Skytrax 2014 World Airline Awards top 10 list since last year. Malaysia Airlines comes in at 18th best in the world despite recent tragedies.
The World Airline Customer Survey surveyed 18.85 million business and leisure travellers across all cabin travel types (first, business, premium economy and economy) between August 2013 and May 2014.
The survey covered more than 105 participant nationalities and more than 245 airlines, from large international airlines to smaller domestic carriers, measuring standards across 41 key performance indicators of airline front-end product and service.
Last year's winner Emirates dropped three places to fourth place, while 2011 and 2012 winner Qatar Airways came in at second place this year.
Cathay Pacific is the only airline to have reached the number one spot four times, in 2003, 2005, 2009 and 2014.
Skytrax chief executive officer Edward Plaisted said Cathay Pacific Airways was the best performer across all types of travel.
"Some airlines were very good in economy, others in luxury, but Cathay Pacific Airways was top, or near the top, in all categories."
Cathay Pacific Chief Executive Ivan Chu said on receiving the award at the Farnborough International Air Show in the UK:
"We have been the home airline of Hong Kong for close to 70 years and we are deeply committed to building our city into one of the world's great aviation hubs. We do this through our huge investment in new aircraft, our world-beating seats, lounges and other products, our renowned 'service straight from the heart' and an ever-expanding network of destinations."
AirAsia was named the world's best low-cost airline for the sixth year in a row. AirAsia Group chief executive officer Tony Fernandes said guests' valuable criticisms and feedback contributed to the company's success.
"From two ageing aircraft and just six routes back in 2002, we have grown to operate a proud fleet of over 160 aircraft, 95 destinations and carried over 250 million guests."
The world's best 20 airlines – 2014:
Cathay Pacific Airways
Qatar Airways
Singapore Airlines
Emirates
Turkish Airlines
ANA All Nippon Airways
Garuda Indonesia
Asiana Airlines
Etihad Airways
Lufthansa
Qantas Airways
EVA Air
Swiss
Thai Airways
Virgin Australia
Air New Zealand
British Airways
Malaysia Airlines
Hainan Airlines
Bangkok Airways
The world's best low-cost airlines:
AirAsia
AirAsiaX
Norwegian
Jetstar Airways
Indigo
easyJet
WestJet
Virgin America
Jetstar Asia
Scoot
The world's best airline cabin crew:
Garuda Indonesia
Cathay Pacific Airways
Singapore Airlines
Asiana Airlines
Malaysia Airlines
Qatar Airways
EVA Air
ANA All Nippon Airways
Thai Airways
Hainan Airlines
The world's best regional airlines:
Bangkok Airways
Dragonair
Aegean Airlines
SilkAir
Porter Airlines
Copa Airlines
jetBlue Airways
Tianjin Airlines
Alaska Airlines
Shenzhen Airlines
The world's best airline inflight entertainment:
Emirates
Singapore Airlines
Turkish Airlines
Qantas Airways
Cathay Pacific Airways
Virgin Atlantic
Qatar Airways
Air New Zealand
Virgin Australia
Etihad Airways
The world's best airlines in first class:
Singapore Airlines
ANA All Nippon Airways
Etihad Airways
Cathay Pacific Airways
Emirates
Lufthansa
Qantas Airways
Qatar Airways
Garuda Indonesia
Japan Airlines
The world's best airlines in business class:
Qatar Airways
Cathay Pacific Airways
Singapore Airlines
Oman Air
Turkish Airlines
Qantas Airways
Etihad Airways
Garuda Indonesia
Emirates
Hainan Airlines
The world's best airlines in economy class:
Asiana Airlines
Garuda Indonesia
Turkish Airlines
Qatar Airways
Cathay Pacific Airways
Singapore Airlines
EVA Air
Oman Air
Emirates
Thai Airways
The world's best first class airline lounges:
Air France
Lufthansa
Cathay Pacific Airways
Etihad Airways
Thai Airways
Qatar Airways
British Airways
Emirates
Qantas Airways
Singapore Airlines
The world's best business class airline lounges:
Qatar Airways
Turkish Airlines
Cathay Pacific Airways
Qantas Airways
British Airways
EVA Air
Virgin Atlantic
Etihad Airways
Emirates
Singapore Airlines