Squealing Pig unveils LGBTQIA+ themed labels for Mardi Gras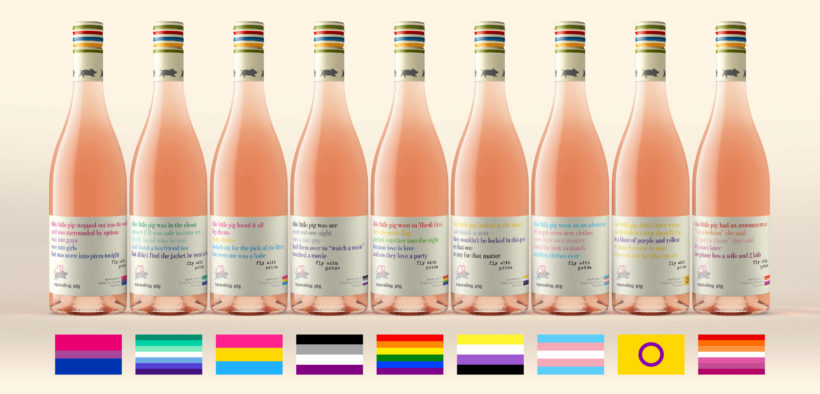 Squealing Pig, the official wine partner of the Sydney Gay and Lesbian Mardi Gras Parade, celebrates the diversity of the LGBTQIA+ community. 
In conjunction with the parade, the wine company released nine new, limited edition labels for its wines. Each label champions a unique community with a playful take on the brand's signature 'little pig' rhyme scheme. In addition to the rhyme, each label displays a five-line colour wave representing the flags that each group marches under. Even the brand's pig mascot received a makeover, having been adorned with wings, encouraging everyone to 'fly with pride'. 
Fernanda Lopes, Squealing Pig senior brand manager, has spoke about the new Pride Labels. "It's a toast to the many colourful spectrums of love, sexual orientation and gender identity," says Lopes. "We are celebrating all the labels that comprise the LGBTQIA+ community."
The labels were produced via Wunderman Thompson, a global creative agency, consultancy and tech company. João Braga, chief creative officer for Wunderman Thompson, says: 
"We wanted these new bottles to feel just as fun and inclusive as the Mardi Gras itself. People won't just see their communities represented and celebrated in the colours of these flags, but in the way these unique tales are told with Squealing Pig's cheeky tone."
The limited edition bottles are available at select Mardi Gras supporting Sydney venues such as Dunkirk Hotel Pyrmont, Mascot Liquor and Potts Point Food and Liquor. Be sure to check them out and enjoy – responsibly, of course.