PUMA and Modibodi team up to make leak-free activewear underwear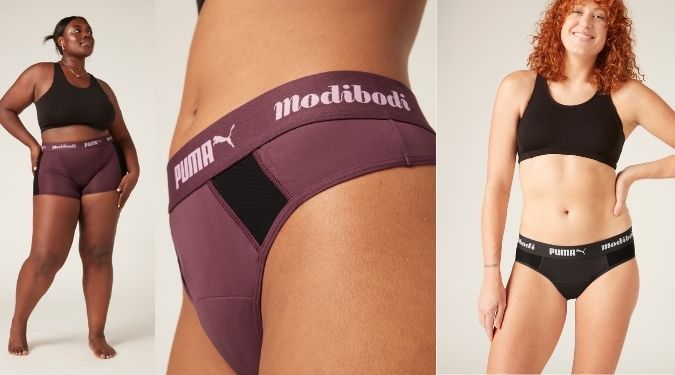 Sports company PUMA has joined underwear company Modibodi to launch a range of leak-free period underwear. This time, the range is aiming to be both practical and comfortable for exercise and sport.
Period underwear came into prominence in the last couple of years. Seen to be both environmentally friendly as well as a long-term cheaper option, period underwear are becoming the more popular option.
PUMA has teamed up with Modibodi to ensure the leak-free knickers are comfortable to wear whilst being active. The sportswear brand believes that everyone who participates in an active life should be given the opportunity to stay and play.
The idea was born when studies revealed that girls' participation in sport drops from 69 percent to 45 percent between the ages of 11 and 15. Some of this dropoff is due to fear of leaking when menstruating. 
The company also looked at how much single-use plastic from disposable products can pollute the environment. Global director run/train at PUMA, Erin Longin, spoke about the partnership. "As a global brand, we felt it important to do  our part to address this issue. The PUMA x Modibodi collaboration allows women to stay active. Not worryingabout leaks, and reducing their monthly waste from period products." 
PUMA x Modibodi collection has been designed to be reused and a replacement for traditional pads, liners and tampons. Its goal is to ensure that women can stay comfortable, odour free and protected from leaks.
"No woman should have to sit on the sidelines of life because they have their period or bladder leaks," said Kristy Chong, CEO and founder, Modibodi. "We are thrilled to launch this collection with PUMA. We want to normalise menstruation and tackle stigmas. Women can be active on their periods."
The collection will be available from May 2022.