Teens encouraged to 'be more Fanta' in new campaign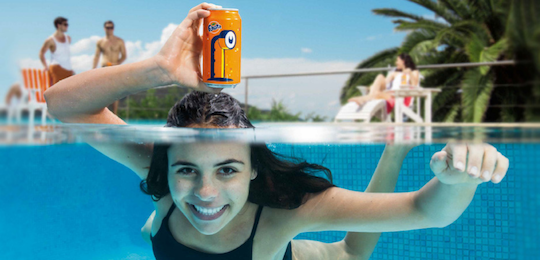 Coca-Cola South Pacific has launched a new Fanta campaign which urges Australian teens to create more play and embrace the vibrant and spontaneous side of life.
The multi-million dollar integrated campaign includes TV, online, cinema, radio, point-of-sale and outdoor and encourages its target audiences – teens and mums – to 'be more quirky', 'be more bonkers' and 'be more prankster'.
Creative packaging 'selfie cans' contain graphics such as rabbit ears, speech bubbles, and what appear to be fart clouds, and encourage teen drinkers to take playful selfies and share with their friends on social media via #bemorefanta.
Fanta ran a similar concept recently ran in France, where it reached 6.5 million teens in the first two weeks.
The selfie cans are one example of the 'play packs' packaging variety, which feature a multitude of designs across various Fanta pack options.
While creative for the campaign, created in partnership with UM, Ogilvy, Adhesive, Passport and Mix Inc, aims mainly at the teen market, it also aims to remind parents of the value of play for their teenagers, and inspire them with ways they can facilitate fun through social activities and encourages them to 'treat them to fun times'.
The bright, summery creatives feature backyard and beach scenes and are designed to remind teens and parents of the importance of having spontaneous fun.
"Fanta is the perfect brand to run with this message due to its creative and playful history" says Ramona Spiteri, Fanta brand manager.
"It also has a proven track record of success, having delivered significant growth since 2009 and is continuing to flourish, something we expect to build on in 2016," says Spiteri.
'Be more Fanta' will also include a strong in-store presence, including a full suite of point-of-sale merchandising to drive product visibility and encourage trial purchases.
Here's the 30 second commercial: