The future of work is human: WeWork and Transition Hub on partnerships and connections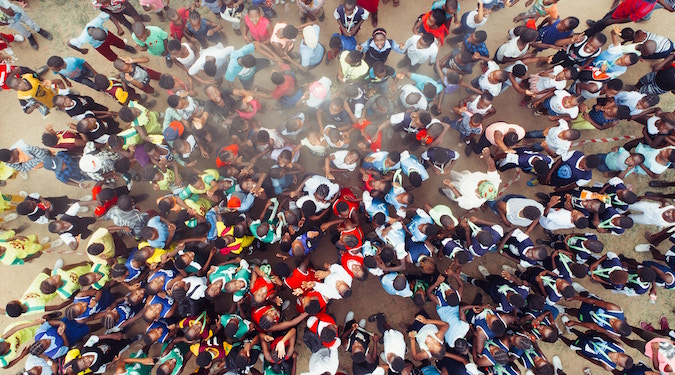 Marketing hears from leaders at WeWork and Transition Hub about their brand partnership and thoughts on the future of work.
Transition Hub, the brand that works with companies and individuals to manage changes in the world or work partnered with WeWork to deliver a more comprehensive experience for those in career transition. "How are we going to give people the chance to be at their best as they start to navigate their own careers?" ponders Louise Watts, Transition Hub founder.
When finding a home for Transition Hub, says Watts, "there was only ever one place that I thought about, and that was WeWork."
"It might have taken Louise 18 months to find us, but it took us a whole five minutes to see that this partnership is the best way forward," recalls Balder Tol, WeWork general manager Australia.
Marketing speaks with Watts and Tol to find out more about this unique partnership, and gets their insight on how the future of work is human.
Marketing: what's your business and the partnership all about?
Louise Watts, Transition Hub founder: The idea has been growing over the last couple of years, but really the preparation has been in the last 12 years. My company, High Performance Coaching has worked globally with people particularly in personal development, but within organisations since 2005. An ensemble of coaches, we're going into organisations, working with future leaders or people who are seen as emerging talent. We're doing big campaigns around helping people feel at their best so that they can engage with their clients in a confident way.
Looking at the way people have responded to that over the years, in 2016 we thought, 'How are we going to offer this type of experience to people when they're needing it the most?' The future becomes quite an independent experience being a working person. There are many choices that people make, not always within an organisation.
How are we going to give people the chance to be at their best as they start to navigate their own careers? I thought about the right home for Transition Hub. There was only ever one place that I thought about, and that was WeWork. It took me about 18 months to find Balder, and to get to the core of the people that really set the value and set the community.
We realised that we have a perfect fit to provide a place to belong for people while they're in transition. For people that are reinventing their careers, and to support individuals, small business or large business in a really creative way is exactly where I think Transition Hub needs to be. Thankfully we all agree on that. That's how we came together.
What is WeWork's approach to understanding the people that come through its doors? How does it reflect what Louise is talking about?
Balder Tol, WeWork general manager, Australia: Louise is trying to create that environment for people in transition. What we talked about and what we're seeing from our members is the loneliness factor.
Despite the hyper-connected world we live in, more and more people are suffering from loneliness. A key factor for people in transition is that they lose their entire network. It creates a sense of loneliness, of losing stability within their lives. That plays into another trend: we used to have our work self and our individual self. Through technology we are always connected, always on. Suddenly our work identity becomes part of our core identity.
What happens if that part of your life suddenly falls away because you're either in transition or being made redundant? The Transition Hub program really addresses all those core fundamentals. Where the alignment with WeWork came in is that after that program, people need to find a home. They want human connection. They want to be a part of that larger community. That is obviously so closely aligned with WeWork. It's really the connectivity and how we transform buildings into dynamic environments for creativity, focus, and real human connection. It's such a perfect alignment.
Is loneliness one of the main things people are looking to address when they come to WeWork?
BT: For us, it's both. We see a lot of entrepreneurs and freelancers that have been working from home. Although that sounds appealing, they see it negatively impact their productivity, their connectivity. They actually miss out on key business opportunities that are out there in the market.
We are wired for human and social interaction. It became very clear that through the uprise of social media that a life on Facebook or Instagram doesn't give the same personal satisfaction as actually meeting in person. Feeling the energy, and actually having that handshake.
That's where the loneliness factor comes in. Then, it's just general inspiration. If you're surrounded with the good mood of entrepreneurs from freelancers all the way to enterprise, you have the unique opportunity to reach out to the community, be inspired and become a better self than when you're just at home or working in a café.
LW: We've come to the point where people want to give. They want to give to other people. They realise they can't do that by being isolated in a café where there's other people sitting there drinking their coffee, on their laptops and so on. So, WeWork and Transition Hub will give people the opportunity to offer something to someone else. That's a real factor that we've got to address. You see volunteer movements around the world – people want to get involved – we need to find a way for people to help each other through the future of work whether that be by just a good conversation, a referral to somebody else or by bringing them in for work experience.
We're creating a movement here. This is not just a program, and this is not just a place. This is a movement for people to come together, find their own confidence that the beauty of that is being able to recognise what they've got to offer someone else.
How does the partnership take shape? What does it look like in practice?
LW: Transition Hub will come in and plug in to what WeWork has already established. That's the absolute beauty of this partnership. WeWork has a community model – it does something every day of the week that brings its community together. That's working perfectly and it works globally.
Transition Hub has been fortunate enough to be able to come in and utilise that sense of community while also providing a definite skills program. Thirty people in a cohort working with five very creative coaches for a week-long program. After that they have six weeks of meet-ups and webinars if they're not coming in every day. We'll offer master classes and ongoing coaching. They will have a two month membership at WeWork while they're doing their transition program. After that, there'll be an opportunity for them to become a member of their own choosing, and continue on with something that they've already become so comfortable with.
You're really walking into something that's already an existing system, and that's why, again, the partnership is inspired because we can't do this in a hall, we don't open the door and put on the lights and say 'welcome to Transition Hub, let's get inspired.'
We are so lucky to be able to walk into a place, anywhere in the world. [WeWork] is a place where people feel energised. They feel like anything is possible. That's the hallmark of WeWork everywhere in the world. It floors me that every time I go into WeWork anywhere – and I've been into a lot now around the world – you get the same feeling. There's possibility there – we're very lucky to be able to bring people into that feeling.
BT: We want to make a meaningful impact for all of the participants. It is really about giving them that platform and community after the core transition program is over, allowing them to have increased success as an entrepreneur or to even find a job.
What is your advice to people hoping to better understand and navigate today's world of work?
LW: My advice that I give to everybody is be in conversation. It's the best tip I can offer and it takes a little bit of confidence. We certainly want to help people find that confidence to feel like they're worthy of a conversation.
Be out there, talk to people, engage with people. Don't feel like someone is going to say no to you. Everybody is willing to engage if you come to them and ask them. It could even just be a cup of coffee or a 10-minute chat. It is about being in conversation. That's a face-to-face experience most likely, but it's certainly possible to do it over the phone.
BT: Find alignment between your personal core values and what gets you excited and passionate. Then you see the acceleration in personal skills, and the amount of personal alignment you have with the organisation you join resulting in clear work-life integration. The happiness factor of that will actually result in higher productivity and engagement between yourself and the organisation.
The research that 89% of respondents don't feel engaged in their current workplace is absolutely shocking for me. We'll see significant changes in the workforce and within organisations to truly address culture and finding alignment.
What is our impact? What are our social values? That will become increasingly important and will be driven by the new workforce. Find the passion and purpose that is important for you, then the stars will align.
Further reading
Image credit: Benny Jackson