The Monkeys' Ikea DIY design app showcased at digital innovation festival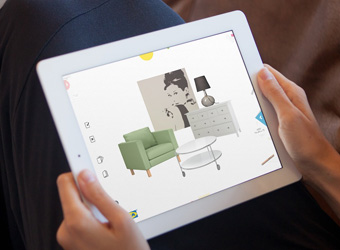 An iPad app created by Australian agency The Monkeys took centre stage at SXSW overnight where its innovative visualisation of home design tool was showcased.
'KLIPPBOK', created for IKEA Australia, was used as an example of innovative digital advertising that embraced the evolution of advertising mediums, in the Google forum stream of the global digital innovation festival.
Named after the Swedish word for 'scrapbook', the app allows people to engage with IKEA products by designing furniture and decoration layouts and sharing them with family and friends.
"Thirty-five percent of the Australian population now own tablets, so KLIPPBOK is a perfect inspiration tool that empowers anyone to play with home design via IKEA products," Ben Cooper, director of digital at The Monkeys.
Since its launch in November 2012, KLIPPBOK been downloaded 50,000 times in around 100 countries – 20,000 times by Australian users –  with minimal media support.
It has also been profiled in Creative Sandbox, Google's online showcase of campaigns that blend creative with digital innovation, and was voted FWA's (Favourite Website Awards) mobile app of the Day on 26 December.