The whole host: Umberto Mecchi's journey from Ford factory to Host Plus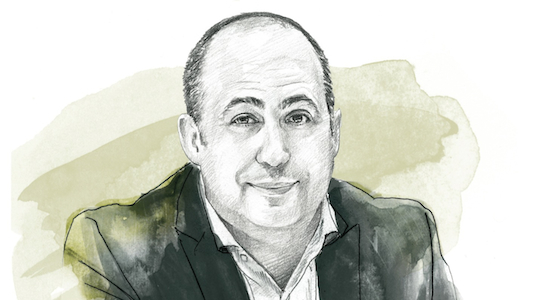 Umberto Mecchi talks us through his journey from a summer in a Ford factory to group executive, strategy, marketing and growth at industry super fund Host-Plus. Words by Michelle Dunner. Illustration by Sara Hingle.
Growing up in Melbourne's northern suburbs, Umberto Mecchi clearly recalls how he discovered he thought differently from other people. It was way back in grade one at Glenroy North Primary School and the inevitable question was posed: what do you want to be when you grow up?
While his schoolmates came up with the usual suspects: fireman, teacher or even astronaut, the young Mecchi wasn't afraid to stand out from the crowd. "I responded 'an elephant' to the bemusement of the teacher, Miss Adolph and the rapturous laughter of the classroom," he recalls. Clearly this was a child with an unfettered creative streak.
Now, as executive manager of strategy and marketing at Host-Plus (stylised as HOSTPLUS), one of Australia's biggest superannuation funds, Mecchi faces one of the greatest challenges a marketer can have: getting millions of Australians to engage with a product that, for most, makes their eyes glaze over.
It's an industry he's passionate about: he's currently on his third stint with the superannuation fund. "I've been fortunate to work for many financial services companies that not only understand the power of brand and marketing, but resourced the activities that support it," Mecchi says.
"All marketers love finding a unique position for their brand; I'm in an industry where we can also relish the opportunity to make a significant social change."
Born in Rome, Mecchi emigrated to Australia with his parents and four elder siblings at the age of two. His father worked on Ford's car production line and taught his son a valuable lesson as Mecchi approached the end of his high school days.
"He got me a job with him one summer," Mecchi recalls. "It was a real eye-opener. I had no real direction that I wanted to go in, but what I experienced there showed me I wasn't cut out for what my father did – and that's no disrespect to his job or the other workers there. It showed me I needed to look at where I wanted to go."
Initially, that was an economics degree at La Trobe University. That too, stymied his creative ambitions and he dropped out after a year. "It was a complete disaster; I failed miserably and I was forced to acknowledge it wasn't for me. My high school careers counsellor was the one who encouraged me to study marketing. He thought I had an aptitude for advertising, so I enrolled in the marketing course at RMIT."
Mecchi worked as a bank teller at ANZ by day and studied at night, until the pressures of combining both finally cracked and he completed his final subjects full-time. "That branch role in the bank taught me a lot. It gave me a real insight into consumer behaviours around financial services – it was invaluable when I moved into a marketing role at the bank's headquarters.
"There are a few things that have driven my attraction to marketing in financial services; at Host-Plus, the degree of marketing difficulty is high. To summarise it, we're trying to convince young people to part with their hard-earned money – that they typically don't earn much of, and invest it in a system called superannuation that changes more than an Italian government. Oh, and they'll benefit from it in around 30 to 40 years' time.
"All we can do as marketers is to chip away and continue to make as much progress as we can to build a community of members who become advocates for Host-Plus. When your brand health scores validate this, it's gratifying to know you've helped someone towards a dignified retirement or to manage their money better."
After ANZ, Mecchi worked with some other major financial brands before moving into an agency role as strategy director for Trademark DM. It was there he worked on the Host-Plus account and got to know a rising executive in the fund named David Elia. "This was back in the days before people could choose their fund," Mecchi recalls. "Host-Plus had the foresight even then to realise how important marketing would be to its strategy."
Working typical 'agency hours', Mecchi tried to bring his full energy to the role, but family issues caused him to have a rethink; his father was in the final stages of a terminal illness and Mecchi went to see his clients at Host- Plus to tell them he needed to resign from the account.
"That's when they offered me a job. They wanted to keep me involved, but they also understood that I wanted to be there for my dad." Mecchi continued to work with Elia, who is now Host-Plus' chief executive.
"There's something unique at Host-Plus and, fundamentally, it's the people. Never in my career have I ever met so many motivated and passionate people, all focused towards a common goal of serving our members. That goes from the board down – there's an energy that liberates talent and creativity, and provides a genuine purpose to what you do.
"The difference here is that we feel we work for a cause, not just a superannuation fund. We don't do it to win awards. We also have a boundless curiosity that drives us to make things better, simpler and champion small experiments. Who wouldn't want to sign up for that?"
Much of Host-Plus' marketing revolves around the industry superannuation fund mantra that the fund is run 'only for the benefit of members'. Industry superannuation and the retail sector (superannuation offerings delivered by Australia's major banks and financial institutions such as AMP) have a long-standing, ongoing rivalry in terms of fees, performance figures and member engagement.
While Mecchi politely declines to nominate his annual budget, he is quick to come up with an analogy to compare it to the large retail providers. "They bring out the big guns, while we're using ones that fire rubber bands," he says.
Having said that, Host-Plus has over a million members and works with 90,000
employers throughout the hospitality industry. Fifty percent of its members are under the age of 30. Mecchi has used several vehicles to try to engage his audience. One particular channel he pioneered in the superannuation industry – which raised eyebrows at the time – was sponsorship of the Melbourne Storm in the NRL (National Rugby League). The idea was championed by David Elia.
"I think we all aspire to work for leaders that inspire, motivate, stretch and liberate us and I'm fortunate to have that working with David. He has that genuine blend and perfect balance of EQ and IQ and gives you every opportunity to be your very best. In doing so, he'll remove obstacles that prevent you from giving that level of performance. He regularly and constructively challenges me, and my team's thinking. We're very lucky also to have what I consider a very progressive board. Ideas might not always get up, but we never feel intimidated or risk humiliation by taking big ideas to them.
"I'm lucky that the board and CEO understand the value marketing delivers and allow me and my team to implement our craft. I'm not sure all marketing leaders in my position are granted the same privilege.
"The sponsorship idea was a compelling strategy when we first did it (in 2006) and remains so today. It was a cost-effective media vehicle to raise awareness in the NRL heartland – New South Wales and Queensland. At the time we had minimal awareness there and it was the greatest opportunity to grow our foothold in the hospitality, tourism and sport sectors.
"The other upside was that Melbourne Storm's games were beamed into the pubs, clubs and venues where our target audience worked. It was a way of broadcasting our brand message directly to the people who really mattered to us. It also elevated the brand out of the business pages of newspapers into the sports pages. It gave us opportunity to be front of mind, more often."
So, how does the fund, and Mecchi measure success? He says return on investment is not the most accurate measure of effectiveness.
"I'm not disputing the accounting principles around the measurement of ROI. It's critical to be able to link marketing to the performance of the fund, but when we discuss ROI in a marketing context, we run the risk of not applying it correctly. Typically, it's used to evaluate one-time capital projects. Marketing can't be described that way.
ROI is too limited in helping understand marketing's contribution to business goals, or how those contributions can be improved, he says. "To gauge marketing effectiveness and contribution, we must factor in the strategic intent of all the marketing expenditure we make.
"Here at Host-Plus, the role of marketing is quite simple: to get more people to join, to get them to invest more and to stay with us throughout their life. This ambition is well-mapped out for specific member and employer segments that starts from building basic awareness, driving inquiry, driving choice, on-boarding and a range of specific and targeted actions that drive loyalty throughout key life events.
"We also operate in a heavily-regulated environment, but the same could be said for a host of industries, such as gambling, pharmaceutical or telcos. While regulation can present us with certain boundaries and constraints, we shouldn't lose sight of the reasons why regulation exists in the first place. Our fund has the fiduciary responsibility of managing $16 billion on behalf of our members. I think it's critical that appropriate regulation is in place to protect their welfare and that of all working Australians.
"The motivation for much of the consumer reform we see in super is well-intended – it's the implementation and utility to the end consumer that can be questionable. I think strategic marketers could help with this and perhaps should play a more active role in the policy and reform discussion, so that we can provide a consumer perspective."
Given that superannuation fund members are notoriously hard to engage, Mecchi has a clear picture of what constitutes success.
"Sometimes the way our industry discusses member engagement, it makes you think that success is people jumping out of bed every morning and checking their super balance before breakfast. For me it's pretty simple: it's less about quantity of engagement and more about the quality. Frankly, success is not about what I think it looks like, but what the member thinks and how they respond. When I get a haircut, I don't want to muck about with the shampoo and head massage. I want to be in and out. Others like their hair washed, a cup of tea, a bit of banter. There are two very different styles of engagement here that leave both customers happy and willing to go back for more.
"There are basic and unique aspects to super that set the platform for member engagement. First, you want to make sure your members know who their fund is. That's a good start. It's not as crazy as it sounds – people rock up to their first job, sign some forms and probably don't even realise they have a super fund until they get their first statement – which they may not even read.
"If you can jump that hurdle, you can move on to getting members to understand what you deliver. This is where on-boarding processes and experiences are critical, so that members know they have a relationship with you and an opportunity to manage money and control their wealth. From there on, it's about focusing on key events or experiences that optimise your ability to satisfy members based on their preferences – which translates into advocacy for your brand over the long-term. We have to realise that for some members, the process will be active and, for others, passive."
Mecchi's career at Host-Plus was punctuated by a stint at another agency, the Shannon Company. He describes the experience taught him four key things.
"Great ideas require courage. A preference by clients for safe, predictable marketing ideas never shifts the dial.
"Second, that you need awareness of how to become a great client; there are great and not-so- great client experiences, so I reflect a lot on the client I don't want to become to our own suppliers.
"Third, great agencies are about great people, not processes.
"And finally, the Shannon Company is a leader in behaviour change and, through a richer understanding of that discipline, I learned that people are predictably irrational despite how rational we think we really are. Behavioural change that lasts requires more than just one ad campaign."
One piece of advice to my younger self…
"Learn from every experience and benefit from reflecting on the past. I have no regrets and try not to live in the past. I've made some great decisions and some shocking ones. All those experiences helped shape who I am today and I wouldn't change that."
CV at a glance
Currently
Group executive, strategy, marketing and growth, Host-Plus
Director, EJ Whitten Foundation
Director – risk and finance committee, Jesuit Social services
Previously
Executive manager, strategy and marketing, Host-Plus
Executive director marketing, Industry Funds Management
Director client services, The Shannon Company
Strategy director, TrademarkDM
Marketing manager business solutions, Zurich Australia
Strategic marketing manager, AXA Australia
Various marketing roles, ANZ
Five books every marketer should read
Good to Great by Jim Collins,
The Brand Gap by Marty Neumeier,
Zag by Marty Neumeier,
Predictably Irrational by Dan Ariely, and
Obvious Adams: The Story of a Successful Businessman by Robert Rawls Updegraff.
Five learnings on managing people
Remind yourself that most people don't leave organisations, they leave their managers. Be compassionate, be accessible and listen and respond to your team needs and concerns.
Don't be afraid to look in the mirror. Self-awareness is critical. Your actions, comments and behaviour will set the standards for your team, so make sure they're congruent with the culture you're trying to create.
Awareness of others – it's important to understand the potentialobstacles or circumstances that may prevent your staff member from being the best they can be in their role. The more you understand what drives your staff, what motivates them, what resources they need and respond accordingly, chances are you will drive optimum performance in people.
Awareness of the organisation and its purpose – there is no greater motivator than doing meaningful work. Good organisations set a 'higher order' to what they do beyond functional delivery and frame this to staff and stakeholders in a meaningful way that drives strong sense of unity and purpose. If you get points two to four working in sync, you have what I consider a genuine and authentic leader.
Remember why you hired your staff/ team member in the first place. Liberate them – give them the vision and outcomes you expect, encourage them to be brave, make the best decisions they can and allow them to be the best they can be. The role of the manager is to ensure there are no obstacles getting in the way of this.
Who influenced me
Personally, my parents and dad in particular. I failed my first attempt at HSC (Year 12) and I thought, "I'm not cut out for education, I'll just try to get a job like most people have to do." My dad suggested that over the summer break I go work with him at the Ford Factory to earn some money and to decide whether I was "cut out for work". I was thrown on a dark assembly line and did non-stop manual repetitive tasks all day long. I felt like a rat in a cage. It made me want to get back to school. Dad was no philosopher but he had his own ways of teaching us life lessons.
Professionally, I'd say Lisa Gray (ex NAB) in my time at National Mutual/AXA. She was inspirational, compassionate, intelligent and extremely motivating. I always admired how she could make the complex simple. Also, my current CEO David Elia has also been an outstanding leader. He always works with you to get the best out of you. You can't ask for more than that.