Time for a career change? We have a rundown of the marketing gigs currently in demand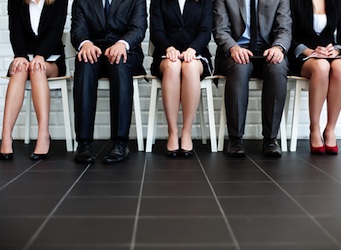 Are you a digital marketing manager? A social media whizz? Or maybe you're more of a marketing generalist?  Well, you're all in luck! Specialist recruitment company Hays says these are just some of the gigs that are currently in high demand.
According to the recruiter's latest 'Quarterly Hotspots' list of skills in demand, staff movement is creating vacancy activity as people decide to change employers.
"The movement of candidates onto the jobs market to explore their options and change employers is fuelling an active jobs market," says Peter Noblet, senior regional director of Hays Sales and Marketing.
"The majority of vacancy activity is the result of replacing departing staff rather than the creation of new roles. Employers will act fast if an employee leaves a business critical role.
"This movement of candidates between jobs is a trend not reflected in the unemployment rate, but it is a good sign of candidates' confidence that they can improve their prospects by looking for a new job.
As a result, overall vacancy activity is expected to increase this quarter, Noblet says. "Many employers also tell us they are keen to secure candidates who can start early in the new calendar year."
"But employers prefer candidates with a solid history of tenure with their previous employers. Candidates who have changed employers often aren't viewed as favourably as those who have been loyal for several years.
"We've also seen the recruitment process lengthen as employers become more thorough when assessing candidates. They often want to make sure their candidate of choice has a broad skill set so that they gain the most value from new hires," he says.
Another trend identified by Hays that's impacting today's recruitment market is the preference for companies to recruit on a temporary-to-permanent basis in order to trial a candidate in the role.
"Many employers prefer temporary assignments to not just cover workload peaks, but to trial a candidate to ensure they are a good fit, both in terms of skills and with the business' culture, before offering them a permanent job," says Noblet.
"Fixed-term contracts meanwhile are also popular as they help control costs. Those candidates prepared to commit to contracts running through until Easter are highly desirable," he says.
Time for a career change? Here is a rundown of the in-demand skilled professionals in Australia's sales and marketing industries:
Digital marketing managers: Growth and investment in digital marketing is creating a 'digital disconnect' in which the jobs market in digital marketing technology is hungry for skilled workers. The evolution of digital marketing is set to continue over the next decade and this will have a huge impact on the skills employers need. As this continues to be a growing area candidates with technical knowledge or digital expertise are in high demand.
Graphic designers: There is a trend for companies to bring graphic designers in-house, while marketing coordinators with graphic design skills are also sought. This is in response to the large number of restructures and, in some cases, rebranding that is taking place in the corporate sector.
Bid writers and managers: The demand for these professionals comes from the construction sector, where employers are looking at securing new work or restructuring teams.
Marketing generalists: Employers want skills across the 360 mix. They are creating hybrid roles across all areas of marketing, including both online and offline.
Content managers: Content managers are required to generate content that is accessible and optimised across a number of different platforms including web, tablet and mobile devices. Candidates with skills in SEO and social media are also in demand.
Senior communications consultants: Given the change of government, the public sector is seeking these professionals to deal with internal staff communications. Outside of the public sector, major organisations are seeking professionals with change communications expertise in response to restructures.
Media liaison in government: Media specialists are in high demand to deal with media issues across departments.
Publicists: Charities in particular are recruiting publicists to increase their brand awareness and assist with campaigns.
Communications managers: The shortage of suitable candidates remains in this field.
Social media officers: There is also a shortage of experienced digital professionals to fill these roles.
Account managers: Most salespeople at this level are staying in their current roles, whereas more senior candidates are available. National account managers are always sought for their people management abilities. Sales skills in telecommunications are also highly valued, while consumer electronics industries are looking for commercial account managers.
Business development managers: Employers require BDMs to generate new business. Employers are looking for candidates who can go out and gain new business, rather than manage existing accounts.
Sales representatives: Employers are always looking for good salespeople to win new business from competitors. They need people with specific networks and experience who will hit the ground running.
Community engagement across major government projects: Transport and infrastructure projects have created a need to recruit specialists who can communicate to the press and general public the changes and effects of projects.
Fundraising/donor relations: Within the charity sector we are seeing a growing trend in active fundraising. But there is a shortage of suitable candidates with fundraising experience, technical skills in fundraising software such as DONMAN, Raiser's Edge and Salesforce, solid experience in income generation or experience liaising with corporates.