Top 10: The marketing news that made the biggest waves in 2014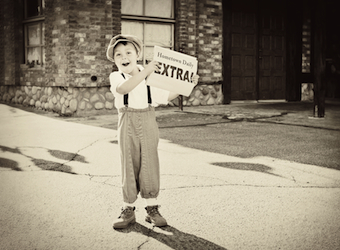 Brand failings, clever PR and new products drew the attention of the marketing masses this year, as shown in this top 10 countdown to our most viewed articles of 2014. Earlier this week, counted down Marketing's top 10 industry op-eds published this year. Now it's time to reminisce about your favourite news events of 2014. Scroll down to find out which iconic brand's failure takes the number one spot.
10 January
Last summer, Coca-Cola Amatil launched five new beer and cider brands in Australia, including Blue Moon, Coors, Alehouse and Pressman's Cider, as well as a revamp of Arvo. Nearly a year later, as summer comes around again, we wonder how well they've managed to penetrate the local scene. Will you be drinking Coors this Christmas?
6 June
Melbourne's football club joined the ranks of 'City' clubs by the City Football Group (CFC), renaming itself from Melbourne Heart FC to Melbourne City FC. Along with the name change came a new club badge and kit, drawing on the heritage of Melbourne.
25 February
Discount clothing chain Best & Less launched a clever PR stunt, setting up a faux high-end pop-up store actually full of Best & Less clothing, and filming customers' responses when they discovered the high-priced items were actually much cheaper than they appeared. The L&B Experiment was part of an ongoing campaign to change preconceptions about women's clothing.
5 March
Pizza Hut gave birth to a mutant back in March when it invented the Cheeseburger Crust Pizza, which, as its name suggests, was a pizza with burgers stuffed in its crusts. The pizza chain hired its first 'burger expert' to assist with the launch, which included a giveaway of a month's worth of pizza.
26 February
After 24 hours of mayhem in the media, Nandos was revealed as the thief behind the removal of Queensland town Bowen's three-storey-high big mango. The company removed the giant landmark in the middle of the night in a publicity stunt to announce its new mango and lime flavour.
5 August
Arnie arrived on Australian screens in a slightly less flattering light than his previous endeavours, confusing Australia with his homeland of Austria in a series of TVCs for Realestate.com.au. REA Group launched the campaign with a high-impact media schedule, aiming for a grand entrance.
10 February
Everyone love a top 10. That's why we're here right now, isn't it? This list of Australia's 10 most recommended loyalty programs revealed Australians enjoy sharing the points they collect from companies, with 65% of members saying they want to share the benefits of their loyalty program with family, friends or a charity.
28 May
Professor Michael Porter visited Sydney earlier this year to speak at the World Business Forum all about the topic he's made his life's work – strategy. Porter discussed common misconceptions about business strategy and advised on how businesses should go about setting themselves on the right path.
6 May
Black Milk, the Australian fashion label famous for having built cult success through savvy social media usage, fuelled outrage from fans when it deleted negative comments and blocked people from its Facebook page. Fans were complaining about a meme of questionable ethics that the company had posted to celebrate Star Wars Day (May the fourth), but the real problem that caught so many people's attention was the company's response to those initial criticisms.
27 June
Finally, in the number one spot for most popular news item of 2014: a story full of juicy ingredients – the demise of an iconic brand, Aussie stubbornness towards Americanisation, and of course, coffee. We published this detailed analysis of Starbuck's failing in Australia after the news broke that the US company, was abandoning its Australian operations after failing to succeed in the unique conditions of the Australian market. Following the announcement that 7-Eleven operator Withers Group would take over the brand locally, we asked, will they succeed? Plenty of you had an opinion on this one.