Top10 YouTube viral ads for 2012 so far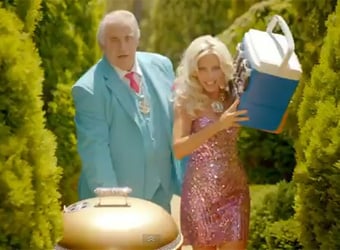 Google has released a list of the top Australian viral 'ads' on YouTube for the year to date. From tongue-in-cheek music videos to music festival 'after movies', and from movie trailers to trailers for mobile games, the clips on the list are an ecclectic mix.
Aussie ads snagged two of the top three spots, with radio personalities Fitzy and Wippa helping Nova lock down first place for their parody of Carly Rae Jepsen's hit song 'Call Me Maybe'. Football-star-turned-lambassador Sam Kekovich helped Meat and Livestock Australia to the other top three spot secured by an Aussie exectuion, for its Australia Day interpretation of Aqua's 90's pop anthem 'Barbie Girl'.
Several reports into the media and entertainment industries, including PricewaterhouseCoopers' 'Australian Entertainment and Media Outlook 2012-2016' and Google-Boston Consulting Group's 'Culture Boom: How Digital Media Are Invigorating Australia', have found a thirst for Australian video content, a point reinforced by this viral video list according to Karen Stocks, head of YouTube and Display at Google Australia. "Australian audiences have demonstrated time and again that there's a huge appetite for Aussie content on YouTube," Stocks says. "The opportunities for advertisers who understand this are significant."

Movies, music and games also feature prominently on the list, which hints at an expansion of the type of content deemed 'advertising'. "Video may be a time-tested medium, but ads don't need to be professionally-produced TV spots to find an audience and succeed on YouTube," Stocks adds. "Online, marketers should think popular, not premium, and focus on creating ads that people love to share."
1. 'Call Me Maybe' parody – Aussie blokes version
If you can't see the video below, please refresh this page.
2. Contraband Trailer (Official HD) 
3. Australia Day 2012: 'Barbie Girl' (Sam Kekovich v Melissa Tkautz v Justice Crew)
4. Tomorrowland 2011 – official after movie
5. Project X trailer
6. The Avengers trailer 2012 movie
7. Prometheus – official trailer
8. Talking Tom and Ben News: World Cleanup 
9. Angry Birds Seasons – Year of the Dragon animation
10. Iron Sky Official Theatrical Trailer