True-blue Aussies do their drinking in cafés, not pubs
Roy Morgan's extensive 'State of the Nation' report included a look into Australians' eating and drinking habits over the last 9 years. The findings include the fact that drinking coffee and tea in cafés has risen, while at the same time drinking at a pub or hotel has decreased, to be even less popular.
The following habits have increased since June 2003:
Going to a café for coffee or tea,
going to a licensed restaurant, and
going to a pub or hotel for a meal.
Meanwhile, the following habits have decreased over that period:
Getting takeaway from a fast food place,
eating in at a fast food place,
going to a pub or hotel to only drink, and
going to a BYO restaurant.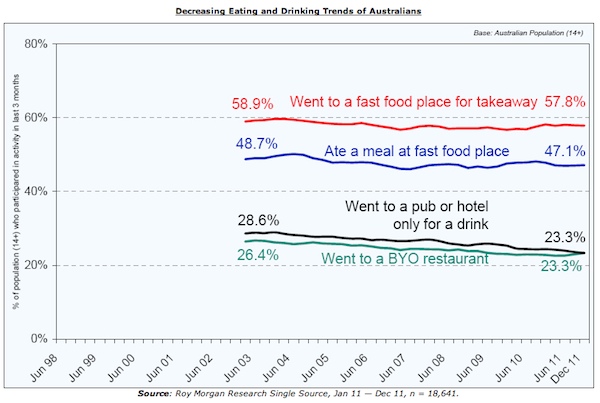 Eating at (and taking away from) fast food places has been slowly decreasing over the last nine years, although Norman Morris, industry communications director, Roy Morgan Research, says fast food's place at the table is not in jeopardy: "Fast food and takeaway have experienced a drop off since 2003, however these have been very slight and recent trends suggest these activities are now holding steady. With the ease, taste and convenience of fast food and takeaway, they will always likely hold a significant degree of popularity among consumers."
Homepage image credit: Wadem, via Flickr