Turning a product sell into a service utility
This case study details how BlueScope dealt with challenges as a result of the GFC by moving itself from adding value with service to being valuable with a service utility.
Campaign: The Steel Efficiency Review
Client: BlueScope
Agencies: Directivity, Green Flare
Background
Back in 2010, BlueScope's market facing businesses – BlueScope Distribution, BlueScope Sheet Metal Supplies and Impact Steel were faced with extraordinary challenges from the effects of the GFC (Global Financial Crisis). Almost overnight BlueScope experienced a huge dip in demand compounded by a market saturated by cheaper imported product. The result was margin erosion based on price buying and fewer opportunities to meet with prospective clients. Steel was seen as a commodity product with no real point of difference. Typically, the sales and marketing process would work from a base of offering product for price with the support from brand presence and service quality. This traditional model was creating greater challenges for marketing to generate leads and making it harder for the sales team to get in the door and start relationships with prospective clients without price being mentioned. In this challenging economic and manufacturing environment, a new strategy was needed.
Objectives
In light of all the challenges, the objectives were clear: generate more opportunities for the external B2B sales force to meet with prospective clients and sell more steel, without price being mentioned.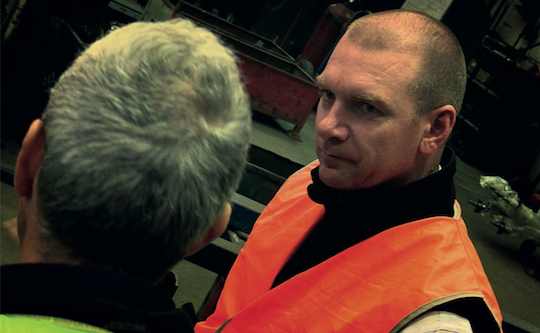 Strategy
Unrealised capabilities = knowledge solution
Within the business was an immense amount of 'knowledge capital', manufacturing experience and an understanding of the production processes specifically relating to the seven areas of waste as identified by Toyota's lean manufacturing model. This 'knowledge capital' was the unrealised capability within the BlueScope business that was to become the knowledge solution.
From adding value to being valuable
Its knowledge of the lean manufacturing process was identified as a tangible point of difference that BlueScope had within its business. It was the platform to develop a promise and model of offering a service through insight, knowledge and expertise. It moved from a product sell to a service utility.
The result was the development of the Steel Efficiency Review (SER). It moved BlueScope from adding value with service to being valuable with a service utility.
Uncovering unknown customer-care factors
The SER provided the framework to ask questions and gain a business understanding based on seven key operational areas identified in the manufacturing process (seven areas of waste), that would highlight opportunities and best practice recommendations for BlueScope customers to gain business improvements and profitable outcomes. As a strategic service utility, the SER provided BlueScope with the tools to uncover its customers' real business challenges without the mention of 'product for price'. It identified the issues that BlueScope's customers cared about.
Who cares?
The SER helped to streamline BlueScope customers' business by uncovering areas of waste and improving productivity, cash-flow and profitability. It also transformed BlueScope's selling approach to one of customer closeness and genuine understanding of its customers' operational and business challenges. The SER made BlueScope more valuable to its customers. It also made its customers more valuable to BlueScope.
From transaction to trust
For BlueScope, the buying journey and sales time-cycle from awareness to transaction was shortened substantially as trust was gained and strong relationships forged very early on in the sales cycle. This reduced the elapsed revenue generation period substantially. It also achieved the goal of transcending customer relationships from transactions to trust.
Click image to enlarge. 
Execution
The SER was executed with a test and learn framework and executed with multi-channel data-driven communications based on:
Powerfully simple market and data segmentation,
dimensional and flat direct mail with insightful creative messaging,
a robust and multifaceted CRM (customer relationship management) lead nurturing phone and face to face follow-up process, and
a customised website with content including videos, blog and white-paper reports.
Results
Since launching in August 2010 and continuing in 2011, 2012, 2013, 2014 and onwards towards 2015, the SER has gone beyond a marketing campaign; it has become a business growth strategy. Over that time more than 2500 leads have been generated and more than 900 Steel Efficiency Reviews conducted, opening doors that were previously closed and generating many millions in dollars of revenue returns. For BlueScope this strategy has provided five powerful business-changing benefits:
25 times the return: a ratio of $25 revenue gained for every $1 of marketing investment,
a real competitive and sustainable advantage: the SER has revolutionised the selling of steel and it is still going four years on,
greater opportunity to get doors opened: no more knocking doors down for appointments, with more doors being opened for more meaningful conversations,
a new culture of customer closeness: BlueScope now has a genuine partnership approach that is all about the customer, and
over 190 SER consultants living and breathing the SER: it is embedded in the culture and part of every day.
The Steel Efficiency Review is now being integrated as a core capability of the business.