Two 'country brand' rankings came out this week – how do they compare?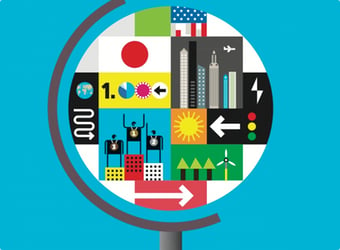 This week we got two things in our inbox that beg to be held up side-by-side and examined: two separate rankings of place brands.
One is from an international research firm, the other from an international branding firm.
GfK measured 50 nations for its 2014 'Anholt-GfK Nation Brands Index' (NBI).
FutureBrand assessed 75 countries for its 2014-15 'FutureBrand Country Brand Index' (CBI).
It turns out, the top 10 names in each ranking are fairly similar. Which may be surprising considering the different methodologies (see last third of this article).
Germany came out top in one and third in the other, while Japan topped one and came sixth in the other.
Australia made the top 10 of both, coming ninth and eighth.
Regarding GfK's NBI, Simon Anholt, an independent policy advisor who collaborates on the Index, says: "Germany appears to have benefited not only from the sports prowess it displayed on the world stage at the FIFA World Cup championship, but also by solidifying its perceived leadership in Europe through a robust economy and steady political stewardship. Germany's score gains in the areas of 'honest and competent government', 'investment climate', and 'social equality' are among the largest it achieved across all the aspects covered by the NBI 2014 survey."
In contrast, the USA has shown the least impressive gain in the NBI among the developed nations. While it still is seen as number one in several areas, including creativity, contemporary culture, and educational institutions, its role in global peace and security only ranks 19th out of 50 nations.
On the FutureBrand CBI, interestingly, this time around it set out to determine what actually makes a country a brand. That is, they're all countries, but are all countries also 'brands'? Obviously that depends on how you define 'a brand'. For FutureBrand's purpose, it means the country has a reputation for high quality products, a desire to visit or study in a country and perceptions of good infrastructure.
Out of the 75 countries studied, only 22 meet the criteria of a 'country brand'. Those countries that made the cut as brands have, "a measurable competitive advantage over their peers as a result", says FutureBrand. For example, people are more likely to visit, recommend and do business with them.
Here are the results:
Top 10 ranked country brands in the 2014 'Anholt-GfK Nation Brands Index'
Germany (up from two in 2013)​
USA (down from one)
UK​ (no change)
France​ (no change)
​Canada (no change)
Japan​ (no change)
Italy​ (no change)
​Switzerland (no change)
Australia​ (no change)
​​Sweden (no change)
Top 10 ranked country brands in the 2014-15 'FutureBrand Country Brand Index'
Japan (up from three in 2012-2013)
Switzerland (down from one)
Germany (up from seven)
Sweden (no change)
Canada (down from two)
Norway (up from 10)
United States (up from eight)
Australia (down from six)
Denmark (up from 12)
Austria (up from 17)
Ignoring the semantics of the difference between a 'nation' and a 'country', the real difference between these two rankings boils down to their respective methodologies, so we'll explain how they're conducted.
GfK's NBI measures the image of 50 countries with respect to exports, governance, culture, people, tourism and immigration/investment.
"For the 2014 study, a total of 20,125 interviews were conducted in 20 countries, with at least 1000 interviews per country. Interviews were conducted online with adults aged 18 or over. The most up-to-date online population parameters were used to weight the achieved sample in each country to reflect key demographic characteristics such as age, gender and education of the online population in that count."
FutureBrand's CBI assessed 75 countries on associations of value system, quality of life, business potential, heritage/culture, tourism and products.
"Quantitative and qualitative data from 2530 opinion-formers and frequent international business or leisure travellers in 17 countries (USA, Canada, Brazil, Argentina, Mexico, UK, Germany, France, Russia, Turkey, South Africa, UAE, India, China, Thailand, Japan and Australia). The questionnaire was developed around our proprietary Hierarchical Decision Model (HDM) to understand how strongly audiences perceive countries from levels of awareness to advocacy. The HDM takes seven areas into consideration: awareness, familiarity, preference, associations, consideration, decision/visitation and advocacy. For the purpose of ranking, the research weights in favour of 'associations' across six dimensions [above]."