Universal fuel rewards program aims to challenge dominance of big two supermarkets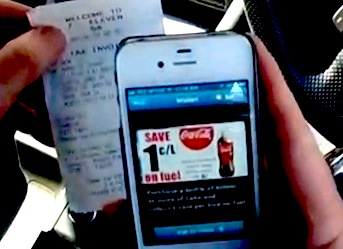 A new rewards program is aiming to challenge the dominance of the fuel offers operated by Coles and Woolworths.
Touted as a 'universal marketing mechanic,' FuelCents says it's opening up fuel rewards to any business or brand with a national rewards program set to launch in November.
Parent company iMobileMedia says it anticipates strong participation from the nation's two million independent businesses.
The media release from FuelCents reads:
Any business or brand, large or small can now lodge FuelCents offers that can be redeemed at any petrol outlet in Australia. This includes every independent petrol retailer and all major petrol retail groups.

By opening fuel rewards to everyone, FuelCents dilutes the fuel price imbalance that has resulted from Coles and Woolworths exclusive offers. This supports competition, benefiting fair trade across both petrol and grocery retailing.

Rob Keogh, chief technology officer at iMobileMedia, said the system works with the shopper collecting FuelCents as an activity incentive or reward on purchases. The receipt (shopper docket) from the petrol purchase is zapped with the ScanZap app and the reward value is rebated to the shopper's account in moments.

There is no limit on the FuelCents that can be redeemed in one transaction, which means motorists could be redeeming 20, 40, 60 cents per litre on fuel purchases at any petrol outlet. The unique appeal is that households can collect FuelCents on multiple retailer or brand purchases anywhere, then aggregate the rewards into a single claim at any petrol outlet. Some businesses propose to present FuelCents as an ongoing reward, with offers like 'Get 20 c/L on each tank fill for 6 months'!
"There is no doubt about the compelling attraction of fuel discounts for consumers. They are said to drive over $1 billion in trade to Coles and Woolworths," Keogh says.
The impact on competition of fuel rewards as an exclusive practice has been under the spotlight at the ACCC as well as scrutiny by independent retailers' groups.
The introduction of FuelCents may mean the big two grocers are off the hook, says Keogh. "Now, as opposed to the ACCC blocking Coles and Woolworths, independent stores and their suppliers can compete in their value proposition to shoppers.
"The combined trade from the two million businesses of the independent groups, together with their suppliers and five million staff, means independent businesses have an equal, if not wider, capability to leverage fuel rewards to engage customer loyalty."
During the launch phase of FuelCents, iMobileMedia is offering subsidised rewards to get businesses, suppliers, brand manufacturers and retailers on board.