Victoria Bitter to put names of fans on NSW Blues jerseys for State of Origin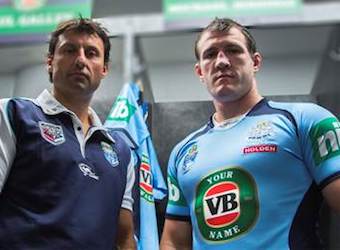 CUB's Victoria Bitter brand beer, as naming rights sponsor of the New South Wales Blues, is launching a campaign for this year's State of Origin Series that gives fans a 'once-in-a-lifetime' opportunity to back their team and win their name on the front of a player's jersey in a State of Origin game.
One of the biggest campaigns that VB will launch this year, 'Name in the Game' focuses on VB's strong sponsorship relationship with the NSW VB Blues State of Origin team.
At all three State of Origin matches this year, VB will replace the words 'VICTORIA BITTER' on the front of the iconic NSW jersey with the names of 46 Blues fans from across the state – one on every player's jersey. Fans can enter by purchasing specially marked packs of VB and entering the promotional code online.
"This is huge. In 160 years, we have never changed the wording on the Victoria Bitter logo. As the major sponsor of the NSW Blues we wanted to throw everything behind them and for the first time, we're enabling fans to actually be in the game, adding even more fire to the supporter base of the Blues," says general manager of Victoria Bitter, Richard Oppy.
The agencies involved are Clemenger BBDO, ApolloNation, Liquid Ideas and MediaCom. The campaign runs until 1 July, with the TVC on air from 2 May. It includes TV, radio, digital and POS. The promotion kicked off last week with early momentum among high-profile NSW media personalities and influencers with photos and tweets urged to feature the hashtag #vbnameinthegame. VB's social media assets will provide content to fans and followers throughout the campaign.