Virgin America's most boring, creepy, weird ad ever – and it's more than five hours long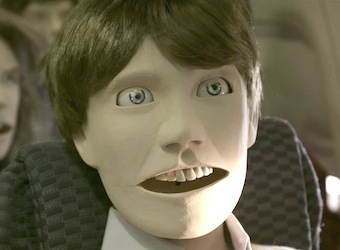 Virgin America is having fun with the online video space. Almost too much fun. Which, ironically, involves releasing the most boring advertisement in the history of video.
The US-based airline Virgin America has released an online video advertisement that runs for five hours and 45 minutes. It's the most boring – and creepy – online video ever.
But that's the point. It replicates, in real-time, a flight from Newark to San Francisco – coast to coast – on an airline other than Virgin. It's an almost brilliant mixture of the tedious reality of the flight with the metaphor of humans on autopilot represented by the mannequins that are the video's 'stars'.
Not much happens, except the typical sounds humans make when they're closely packed into a pressurised metal tube. The most boring crossword puzzle ever. The most boring in-flight entertainment ever. The most vapid cabin crew ever. Even the most boring dreams ever dreamt when our mannequin-hero falls asleep. It goes on. For almost six hours. Until we land, go close-up on our mannequin-hero's eyes, and cut to black.
The airline is appropriately called BLAH Airlines. Check out the BLAH Airlines website, where you can live-chat with mannequin customer service representative Sheri. (Hey, online chat for customer service is innovative, right?)
Apparently, it was a lot of fun to make. Bryan Houlette, creative director at Eleven, the agency begind the video, told Adweek: "It was never really weird, but rather a challenge to see if we could also make it funny. And in the end, that's where all the fun happened. It was a nice mix of being really weird and comical, for a real long time. It's the kind of thing where you want to turn away, but you're oddly drawn into the boredom."
The Marketing team has this playing up on a screen in the office. It's due to finish by late afternoon. Let's see if we make it to San Francisco.
http://youtu.be/UsMZRl71Zo4