Volkswagen's 'Charge Up' app wins best of global digital marketing for May 2015
An app demonstrating Volkswagen e-Golf's charging capacity and entering users into a competition to win a car has won the best of global digital marketing award for May 2015. The jury, coordinated by Best Marketing International, voted an app utilising Stockholm taxi route data for tourists in second place, and a Toyota SEO campaign from Denmark in third place.
European digital marketing research firm Best Marketing International monitors almost 300 digital award competitions worldwide. Based on the winners of these competitions, our research team shortlists 10 works and forwards them to International expert jury for voting. Unlike the annual award shows, we select fresh campaigns every month. These campaigns are picked from the winners of local/regional award shows. In May, the biggest focus went on scanning through the latest Webby winners. The Webbies have certainly offered us a big portion of outstanding digital creativity. But the Scandinavians are here to steal the show, and in the end, two of our top three came from regional award shows (known as the Golden Egg). Try/Apt Norway won the jury's hearts with Volkswagen's Charge Up for e-Golf, followed by a taxi app from the Swedes and a clever search campaign from Toyota Denmark.
Here are the May 2015 winners.
1. Volkswagen's 'Charge Up' for e-Golf by Try/Apt
(Norway, Gulltaggen 2015 winner)
Volkswagen was about to launch the all new electric e-Golf in Norway. Try/Apt's task was to generate as many test drives as possible. Driven by the astonishingly high smartphone penetration in the region, the agency decided to connect people's daily charging activity with the e-Golf. 'Charge Up for e-Golf' is a native app developed exclusively for Volkswagen Norway. Every time you hook up your phone to the charger, the app offers you a raffle ticket and some interesting facts on the new model. The app was downloaded more than 100,000 times and generated over 13,000 test drives.
Ladeapp from Try/Apt on Vimeo.
The jury's comments:
"I love this campaign as one of those 'obvious in hindsight' connections for a product where educating the market is a key factor. Plugging your car in to charge is weird… until you realise it's pretty much exactly the same as running around with your smartphone all day and needing to find charging opportunities. Obviously enough charging infrastructure has to be in place, but it looks like Norway's fairly ahead in that regard (come on Australia!). Lots of media coverage, but 13,000 test drives! That's a direct business result."
– Peter Roper, editor at Marketing Mag (Melbourne, Australia)
2. Taxi Stockholm's 'Taxi Trails' by King
(Sweden, Guldägget 2015 winner)
In order to introduce people to the 'real' side of Stockholm, Taxi Stockholm teamed up with King and developed a new GPS based tourist guide – Taxi Trails. Based on the taxi trips of millions of local Swedes and the data from Google Maps, visitors were now able to discover the actual gems hidden across the capital. An integrated campaign helped to spread the word about the new guide. Taxi Stockholm's sales increased by 6% and the app received positive feedback across all media channels.
Taxi Stockholm – Taxi Trails from Christoffer Dymling on Vimeo.
The jury's comments:
"I really liked how Taxi trails used digital to raise more awareness to the trustworthiness and the ease of use through an application. Also the use of big data is always great to see."
– Gamze Gurbuzatik, JWT International, Client Services Director (Istanbul, Turkey)
"It's great to see a case of an incumbent taking advantage of the capabilities of digital and data, instead of sitting back and complaining about Uber. This works because it embeds the brand into a combination of something tourists are going to be doing (using the web for travel and activity information) with unique information they can't get anywhere else (Taxi Stockholm's GPS data). And that makes it so much more."
– Peter Roper, Editor at Marketing Mag (Melbourne, Australia)
3. Toyota's 'One Result Google Search' by Saatchi & Saatchi Copenhagen
(Denmark, Webby Awards 2015 people's voice winner)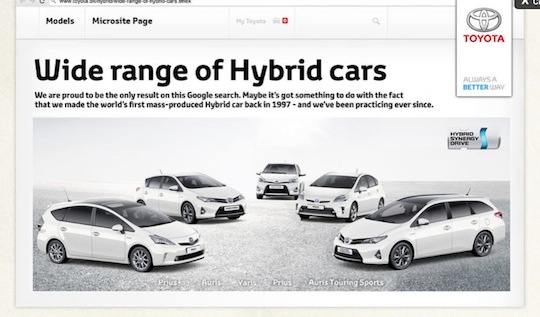 Toyota DK wanted to use their existing USPs to raise awareness about the innovative Hybrid technology and drive visits to the brand's website. With a very tight budget on their hands, the team at Saatchi & Saatchi Copenhagen set out to find Google search queries, which would produce 0 results about the Hybrid's product details. They constructed unique web pages containing these rare search queries. And as a result, Toyota DK proved to be the only way to go, literally. Traffic to the site was up by 294%. Toyota saw a 100% spike in sales during the campaign period.
The jury's comments:  
"This is all about clever 'old-fashioned' search engine optimization (SEO) and makes a change from the 'live stunt-viral video' campaigns we so often judge for these awards. This is 'real' hands-on digital marketing. It was based on a thorough understanding of how Google's algorithm (for natural search) works. If you want to be found for a particular keyword, it makes sense to build a page around that word, especially when no one else is ranking for it! Toyota and its agency got into granular detail and employed a test-and-learn approach which is the essence of real-world (digital) marketing. No gimmicks, just attention to detail. Great campaign; great marketing!"
– Mike Berry, internationally recognized digital marketing lecturer, trainer author and consultant (London, UK)
This time, the jury consisted of Peter Roper, editor at Marketing Mag (Melbourne, Australia), Hando Sinisalu CEO of Best Marketing International (Estonia), Gamze Gurbuzatik, JWT International client services director (Istanbul, Turkey), Maarja Laasu and Ann Kruuk, co-authors of 'BOGDM: The Storybook', and Mike Berry, internationally recognized digital marketing lecturer, trainer author and consultant (London, UK). Click here to find out more about the awards.