Want to win a Cannes Lion? Put social first (social thinking, not social media)
This guest post comes from James Nester, UK creative director at We Are Social.
Social media recently overtook pornography as the number one activity on the web. (Stop press, get this onto the front page!).
Armed with this and many more startling insights, we recently approached Cannes Lions to put our case forward for a new Social Lion. And although a dedicated Social Lion hasn't yet materialised, 15 new social-specific categories within Cyber Lions 2014 have.
It's a great step forward because social thinking will define the ideas of the future. To be clear, by 'social thinking' I don't mean Facebook and Twitter tactics. I mean ideas based on an understanding of social behaviour. Big ideas that people want to share, talk about, get involved with and belong to.
Let me throw more stats at you. Brace yourselves for this one… Social media is more popular than TV.
What?! You're thinking I'm biased, but I have numbers: social media now absorbs 26% of people's media time, compared to TV's 23% according to GlobalWebIndex.
And the trend's only going one way. In the last two weeks alone, two million more people have become active users of social platforms.
So if all this is the case, why are we still heroing the big budget TV ad? Why does TV make up such a disproportionate chunk of most campaign budgets? And why are most TV ads still talking at people, not with people?
Maybe it's because we're a mature market here in the UK. Whole marketing departments, agencies and processes have been set up around producing the TV extravaganza, airing it with Coronation Street, then if there's any budget left, asking a digital agency to 'do something social that fits with it.'
That's not always an easy or especially productive task and is perhaps that's why our nation isn't winning many Lions any more. There's also an assumption that big expensive business problems require big expensive advertising solutions (see Rory Sutherland's excellent talks for more on this).
The model usually goes like this:
Come up with a big 'broadcast' idea. Socialise it.
But what if it went like this?
Come up with a big 'social' idea. Broadcast it.
Look at the world's ten most award-winning campaigns of 2013 according to the Big Won Report. You could argue every one of them is closer to the second model, not the first:
'The Beauty Inside' in particular is a shining example of the social-first model. A profound, episodic brand film that beautifully taps a human truth, acted out by real fans. The idea would have made for a spine-tingling TV campaign. It didn't need one, receiving 70 million views without traditional media costs.
More and more clients are cottoning on to the explosion in social. Apparently almost half are planning to increase social media budgets this year, at the expense of traditional channels. Some forward-thinking clients are even placing social as the starting point of the idea rather than a bolt on.
For instance, our #LiveYoungJanuary campaign for Evian, is one of the UK's biggest print campaigns of the year so far, yet it's first and foremost a social campaign, using traditional media to drive buzz. That's the way we like it.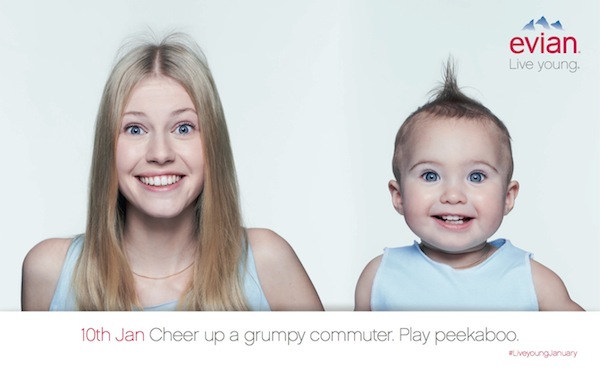 Evian no doubt has greater trust in the potential of social after our 'Wimbledon Wiggle' campaign last year, a dance craze that reached over 90 million people at a fraction of the cost of a traditional TV ad.
Let me finish with what personally made me a social convert: The Gnome Experiment, an idea created by We Are Social colleagues Graham Jenks, Nick Hearne and myself, back at OgilvyOne.
Reach after one month was over 350 million – triple that of the Super Bowl. The Gnome Experiment is now part of the teaching curriculum in several countries and I'm one of the only people to have ever held a TED Talk about an advertising campaign. All this cost less than £30,000 (plus blood, sweat, tears – and a near law-suit from lawyers at the CERN Hadron Collider, but that's another story).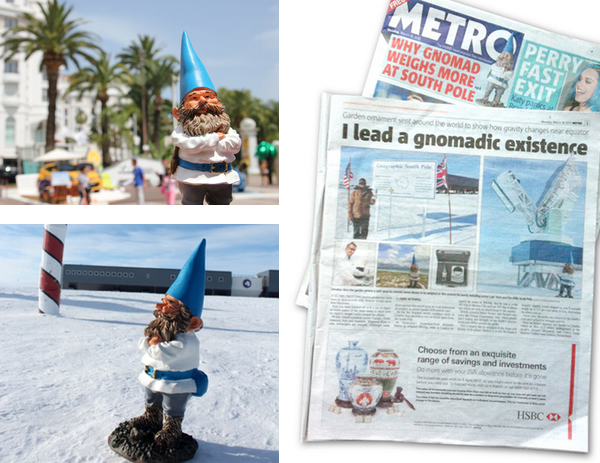 And yes, the gnome performed in awards too – it was the world's most awarded Direct idea of 2012 (The Big Won Report) and the world's most awarded PR campaign of 2013 (The Holmes Report).
Why did it do so well? Because it was something people wanted to talk about. It didn't rely on Twitter, Facebook… or any channel actually. It was a conversation piece that tapped into genuine interests of real communities: scientists, teachers, students and gnome lovers everywhere. A social idea.
So if you're gunning for a Lion, the new Social categories represent a huge and untapped creative territory to mine. They also give the UK a big chance to reclaim our credibility – but we might need to change the order we look at advertising first.
James Nester is creative director at We Are Social in the UK.