Welcome to tech-choc heaven: new Android operating system named 'Kit Kat'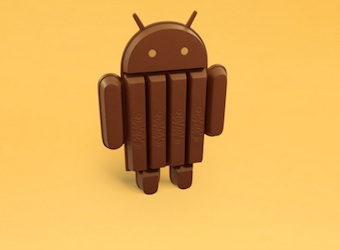 In a deal that was made in technology-choc heaven Google has named its latest Android operating system, version 4.4, after the Kit Kat chocolate bar.
Google has a long history of naming each of its new Android operating systems after candy or desserts, like 'Honeycomb' and 'Donut', however this is the first time that a version has been named in partnership with a well-known candy brand.
Financial terms have not been disclosed for the deal between Google and Hershey (which licenses the brand in the US; everywhere else Kit Kat is produced by Nestlé) but it has been reported that Google approached Hershey six to nine months ago for permission to use the name.
Kit Kat was reportedly chosen because the brand's jingle 'Give me a Break' was a good fit for Android apps, which also offer users a break when they play with games and apps on their smartphone. There has also been talk that web developers who work on the Android applications had a particular fondness of Kit Kat bars while working on the latest technology.
Kit Kat has launched a parody website of the new Android announcement website with both websites heavily featuring the Kit Kat logo.
Is this goodbye to stadium and sporting team sponsorship and hello to slapping your brand on the latest tech product? Our eyes will be firmly peeled.