Will Apple's Passbook be a pocket rocket in the digital wallet wars?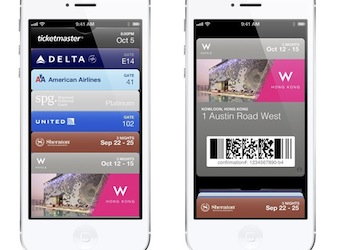 By Rob Livingstone, University of Technology, Sydney
You might not realise it, but there is a virtual queue of organisations snaking around you just waiting to make you more valuable than you actually are. Your spending patterns, loyalty program memberships and location at any point in time is worth good money – especially to others.
Apple is the latest to join this queue, with their Passbook offering on iOS6 iPhones. This offering will allow you to store and redeem discount vouchers, movie tickets, passenger boarding passes, and any other loyalty-based incentives offered by organisations with the resources to invest in this proprietary Apple technology. This is also likely the first step taken by Apple on its journey to insert itself into the actual payments stream. Unlike the Google Wallet, Passbook neither uses near-field communications (NFC) nor stores credit card or other financial data – for now at least.
The consolidation of your life's transactions into a single point, such as your smartphone, is probably the end goal of any organisation that is interested in you as the product. Utilising smartphone technologies, organisations wishing to sell their services to you are constantly working on ways to personalise their offers to you – preferably in real time. By combining the geospatial and other positioning data in real-time, either from your GPS or cell phone location information, organisations are able to deliver real-time data to you that are both relevant and timely.
Consider this scenario. As you are walking (or driving) towards a cinema, you receive a text or email offering you a free upgrade to premier seating for the movie about to screen. You decide to take up the offer and buy your movie ticket on your smartphone there and then. When you walk into the cinema, you just present your smartphone at an automated turnstile, and then head off to watch your movie. No paper or people involved. During that time, your digital trace has been tracked, collated and all financial and other rewards or loyalty systems have been updated with the transactions that have just occurred. This is merely another brick in the digital superhighway, and another dollar towards those putting a value on your interests and spending behaviours.
From the merchant's perspective, there are potential cost savings in each transaction they have with you. The costs associated with voucher printing, staff handling conventional point of sale transactions and so on are potentially more than offset by moving customers to the digital wallet/Passbook. No doubt as you read this article many organisations vying for your attention, are weighing up the return on investment in the latest offering from Apple.
Interestingly enough, though, the uptake of the Google Wallet smartphone has been a lot slower than the initial hype predicted. Barriers to uptake are not trivial. The challenge for organisations such as Google and Apple lies in gaining a critical mass of retailers and business partners that are willing to invest effort and money in the digital wallet model.
Designing enterprise-strength, secure digital wallet software for the volatile ecosystem of smartphones — and running a range of operating systems with short half-lives — is neither cheap nor easy. Which horse do they pick? Apple or Android? Which OS? Maybe hedge bets by developing 2 systems, one for each ecosystem. Twice the cost, half the value.
The reality is that it's not what flight you take or movies you see that's important per-se. It's you, your community; your societal living patterns that are a potential gold mine for organisations wanting to shape products and services that they think you may want or need – all wrapped up in the convenience of your mobile device. In this game, you as the end consumer of these services have a choice. Choose wisely!
Rob Livingstone does not work for, consult to, own shares in or receive funding from any company or organisation mentioned in this article. He is the owner and principal of an advisory practice that provides independent IT advice as well as other strategic consulting services to industry.

This article was originally published at The Conversation.


Read the original article.