Women drawn to Woolies, Amazon and lifestyle: Nielsen Online Ratings
In the lucrative digitally-active female segment, Woolworths and Amazon are the most visited retails sites, Disney Online and kidspot.com.au win out in the family and lifestyle category and taste.com.au is winning the battle of the food websites.
Nielsen's Online Ratings found that the highly engaged 25-54 year old female group accounted for 30% of the total online population in June, 33% of the total audience for mass merchandiser retail sites and 45% of all page views on Big W, Amazon and Kmart sites.
An average member of the group, which accounts for around 4.6 million Australians, spent 89 hours online for the month, viewing more than 3000 web pages across 86 sessions. Shopping is one of their favourite activities; they access Australian retail sites most frequently and have a strong relationship with online auction sites, being 11% more likely than the general online population to use eBay.
The major discount department stores all feature in the group's most visited retail sites along with DealsDirect.com.au, Westfield, Coles, JB Hi-Fi and MYER. The Iconic also featured as one of their most visited sites, giving the Sydney-based online fashion site the lead in the pure-play fashion category, with 308,000 unique visitors in June.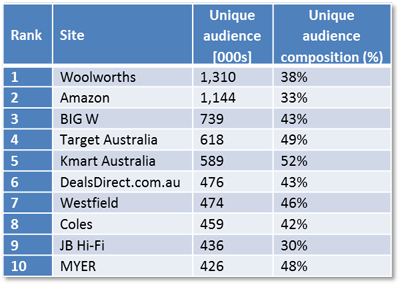 According to Nielsen, the vast majority of women in this market segment regularly access major Australian publisher sites, such as Google, Yahoo!7 and Facebook.
In the overall rankings, Google held on to its position as the most visited site, followed closely by Facebook which still dominates the field for time on site. NineMSN's group of sites retained third spot, followed by YouTube, Microsoft and Yahoo!7.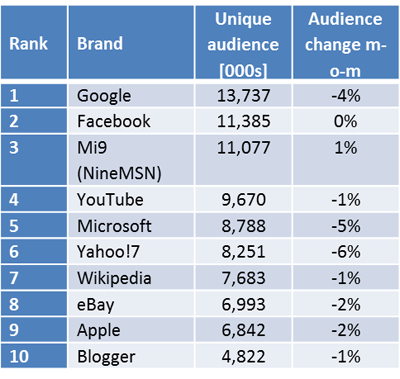 Small declines in page views were recorded across the board due to one day less of tracking for June than in May, however unique audience sizes for many of the top ten most visited websites dipped slightly.