Woolworths most valuable Aus brand, pockets of hope for decimated retail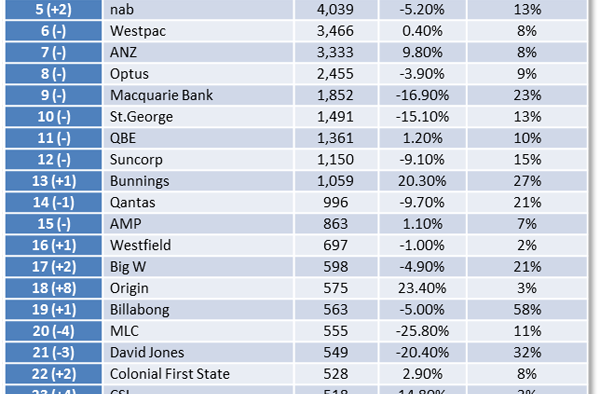 More than half of Australia's top 30 brands registered declines in their value over the past year, with Harvey Norman and David Jones among the worst hit, a study has found.
There were clear winners and losers over the past year, Brand Finance found in its annual study into the value of Australian brands. Retail and finance brands bore the brunt of the tough conditions, with many in these sectors experiencing a 10-20% decline in the value of their brands, but it wasn't all bad news for these sectors with standout brands performing well.
In the retail sector, Bunnings, Coles and Target showed that growth is achievable despite difficult trading conditions, notching 20.3%, 14.5% and 10.0% increases in brand value respectively.
Coles, valued at $4.7 billion, succeeded in closing the gap on rival Woolworths, gaining $597 million in value and moving up the ladder to reach third position. Woolworths, valued at $7.1 billion, maintained the top spot despite losing $504 million of value, prompting managing director of Brand Finance Australia, Tim Heberden, to point out three areas where retailers could step up their game. "Due to increased international competition and changing consumer behaviour, Aussie retailers are learning the importance of customer service, brand differentiation, and omni-channel strategies," Heberden says.
Australian finance brands also recorded mixed results over the past year, but on the whole outperformed their global peers with six of our banks featuring in the top 100 of Brand Finance's global list of the top banks. MLC declined the most out of the top 30 brands, shedding 25.8% of its brand value. Macquarie Bank and St George also experienced significant declines, but at the other end of the scale BankWest and ANZ increased in value by 16.5% and 9.8% each. The Commonwealth Bank (CBA) seized the title of Australia's most valuable banking brand from NAB, increasing its value by $185 million.
Another brand value study, Millward Brown's BrandZ, recently ranked CBA as the most valuable Australian brand on the global stage at $13.1 billion, compared to the $4.1 billion valuation given in this study. However, Millward Brown does not release Australian results or include all Australian brands in its global list, making no other comparisons possible.
Brand Finance calculated the overall value of the top 30 Australian brands at $51 billion, well below the value it attributes to the largest global brand, Apple, at US$71 billion. The researcher calculates a brand's value by looking at a company's market share, profitability, reputation and emotional connection with consumers.
Telstra held on to second place in 2012, gaining $294 million to reach a value of $5.1 billion, placing the telco on par with the once great Nokia brand in an international context.
The Qantas brand continued to free fall dropping below the billion dollar threshold, although this year's drop of $108 million represents a reduced rate of decline.