Apple's 'Passbook' app could kick-start mobile loyalty and payments
Apple released its iOS 6 update overnight to the usual fanfare, introducing a number of new features that could impact on the way brands interact with consumers in the mobile ecosystem.
At the head of the pack is the new native app 'Passbook' which grabs your boarding passes, tickets, store card apps (like Starbucks or CardStar) and the like and organises them. It also promises to make the loyalty card process a lean-back experience for consumers, by bringing up the appropriate card based on current location. For instance, movie tickets bought online can be stored in the app and, rather than having to search for the app and ticket, your phone's GPS will sense that you've arrived, and load your ticket to the lock screen automatically, ready to be scanned.
Introducing the new feature, Apple's senior vice president for iOS software Scott Forstall call it "the simplest way to get all of your passes in one place." The 'passes' can also be updated when details change. For example, if your gate changes while you're at the airport, the saved card in Passbook gets updated automatically. Forstall told developers at Apple's Worldwide Developers Conference, which unfoled early this morning local time, that iOS 6 includes a new Passbook API (pass kit) for creating and updating passes for the app.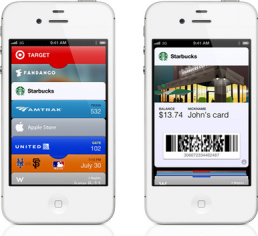 While the app is not a full mobile payments system, like Google Wallet, as it doesn't store credit card or bank account details, it is a step in the direction of mobile redemption behaviour and might prove to be a smart road to easing consumers past concerns over mobile payment services.
Also of note to marketers is full integration of Facebook into the operating system, similar to how Twitter was integrated into iOS 5, placing Facebook links in default apps such as calendar, contacts and even the App Store itself.
Facebook events and friends' birthdays, for instance, will now show up in your Apple device's calendar. You'll be able to post locations to Facebook directly from the maps app and post photos to Facebook directly from the photos app. You'll also see apps friends like when you're browsing through the App Store.
A raft of upgrades were also made to Siri, which now allows you dictate Facebook and Twitter posts, call up more information on sports and restaurants, launch apps and use it from your car, and the maps app which has been rebuilt from the ground up.
The upgraded software will give the iPhone a shot in the arm while the market waits for the next hardware upgrade, rumoured to include a larger screen. Apple will need to continue to evolve the iOS user interface, by adding proper support for widgets (including third party widgets) and add a broader set of APIs in order to remain on strong terms against the more open Android system, according to Jan Dawson, chief telecoms analyst at Ovum.
"Apple must find a way to replace the remaining third-party services, which are core to many users' experience on the iPhone, with its own," Dawson says. "It is likely to fix this problem with Maps in iOS 6, but it has a similar problem in web search, in social networking, and in PIM (email, contacts and calendar). Without really compelling offerings in each of these areas, Apple's users will become increasingly ingrained in third party services which may be better supported on other platforms."