Talent agency for social influencer pets joins the pack
Remarkable Pets, a talent agency for famous pet social media influencers, has launched.
Australia's most popular pets of Instagram and Facebook now have the option to be represented by a talent agency designed for animal social influencers.
A division of The Remarkables Group –  which represents human social influencers – the pet agency was created in response to the huge growth of social media accounts for pets, and has already signed some key Australian pet accounts performing well on social.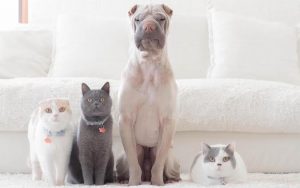 "We know from our experience to date with human influencers how powerful online personalities are; and we can see our approach extending very organically into the pet space, says Lorrane Murphy, chief fur officer (CFO) of Remarkable Pets.
"The rise of pet influencers is a marked global trend and we could see how large and engaged their audiences are. It became clear to us that this new breed of social influencers need a business dedicated to helping them with their channels."
The signed pet accounts of Life of Jinkee (pictured at top) Annie Paddington (above), Bacon and Maple, Lulu and Finn, Frost Official (below), Mr Biscuit the Pug (at bottom), Nigella the Pug,  and Albus Greybeard, have a combined social following of 536,700.
As well as individual accounts garnering large followings, the social reach of pets is visible in hashtags, some of which, including #pet, #dog, #cat and #dogsofinstagram are most of the most commonly used on Instagram, being used over 240 million times.
The agency has signed its first brand partnership with pet retailer Petbarn.
–
Related: Disruption is another trend shaping the industry which also recently made its way into the pet space. Read about the 'Airbnb for pets'.
–
As individual influencer profiles gain larger followings, many brands attempt to use them to promote to highly engaged followers, spawning a range of influencer marketing platforms, such as Tribe, Scrunch, Hypetap, Contagious Agency, Blog Avenues and Weconnect, which aim to connect brands with these influential (human) bloggers.
Here's a 90 second introduction
* * * * *
For in depth insight, expert opinion and brand campaign case studies, purchase a subscription to Marketing
* * * * *