Adapt to a homebound world – the future of 'ready meals'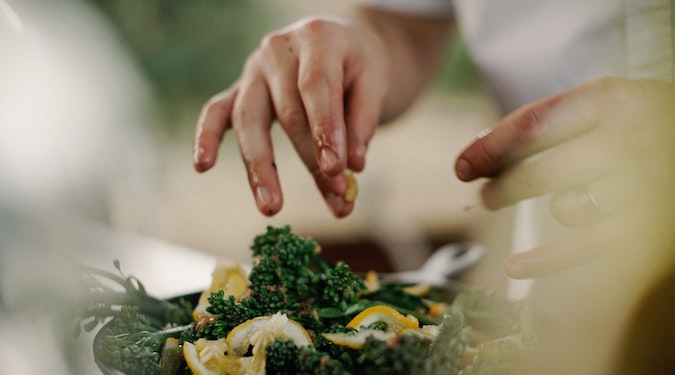 Pockets of the hospitality industry is adapting to a homebound world by creating at-home immersive experiences. Rebekah Yock explores how marketers and brands can offer some excitement and inspiration to consumer's new monotonous routines.
Perhaps the only thing that feels certain right now is that we'll all be spending more time at home. This may be a challenging concept for many businesses, as well as the economy as a whole, but some high-end restaurants have risen to the limitations of lock-down with ready meal innovations designed to bring the restaurant to your door.
What can marketers and brands learn from the restaurateurs revolutionising the way we think of ready meals? How and what can we do to adapt and thrive in the new homebound world?
The creation of the new ready meals born out of the inventiveness of high-end restaurants and cafes has created a shift in perception. From heat-and-eat fine dining in Melbourne, through to Spanish themed food boxes inclusive of video content from notable chefs, there is now an expectation from consumers for an 'experience' as opposed to simply 'dinner at home'. As a result, competition in the market is ramping up.
One such restaurant changing the face of in-home dining is South Yarra based restaurant, Atlas. For those not familiar with the Melbourne institution, the premise of the restaurant is that food is presented as a culinary journey with a set-menu that changes regularly. Inspiration is drawn from chef Charlie Carrington's kitchen experiences on his eight-month trip through 15 countries. As you can imagine, it's an experience that's ambitious to replicate at home – but the team at Atlas is determined to rise to the challenge.
Each week, Atlas invites Melbournians to travel the world from their homes by exploring a new cuisine via a Masterclass ingredient box with all that you need to prepare three dinners. In order to maximise the experience and mitigate for error, every week a video tutorial of each dish is published so you can cook along with Charlie himself. We've talked to young foodies who have used the service and the video tutorial has been a key highlight. For these cooks, it goes a step further than popular meal kits as it offers an immersive cultural experience with the opportunity to take it even further adding Spanish wine and films to your ordinary week at home.
Recent trends in ready meals have to a certain degree democratised the high-end eating experience by bringing it into the home and inviting you to be the chef, but they've also added excitement to people's lives. A key strength of the Atlas example is that the brand inserted itself into the experience taking the key aspects of the restaurant's offer into people's homes.
If the premium and gourmet conscious consumers' mindset is shifting in relation to 'eating at home' – what does that mean for marketers in terms of the types of at-home experiences that people are now expecting or indeed requiring?
Our worlds have become a little smaller of late, especially in Victoria. We work (if we're lucky enough to still have a job), we parent, we home-school and we exercise, but with cinema, live theatre, restaurants, gyms and swimming pools closed to us many of our entertainment options are limited. A friend summed this up for me recently when she said it felt like we were doing all the work and hard stuff with none of the fun. This is where brands can come in adding excitement and inspiration to our (now) often repetitive and predictable home lives. It's a time to show empathy and maintain and build relationships with customers and what better way to do that than by helping them fill the void created by COVID-19.
I talked to my hairdresser based in Melbourne. She's looking at six weeks off work. I asked her how she was feeling and she said she was looking for a new hobby to help her fill the time. She's certainly not the only one; from sourdough to macramé to upcycling furniture, people are looking for non-screen-based pastimes to help them fill the gap left by the absence of outside activities.
Airbnb has adapted to this new normal and is now offering ways in which we can continue to upskill and experience the world without leaving our sofa. The online vacation rental marketplace, known for disrupting the way in which we travel is now offering exclusive online experiences. These experiences range from photography classes and cabaret-style cocktail making with drag queens in Portugal to plant propagation and even virtual sourdough baking – the number one lockdown pastime. These experiences are being offered at affordable prices with Airbnb not just giving people a one-off but potentially introducing them to a whole new hobby.
This agility also keeps Airbnb front of mind, so when we are able to travel again, we'll think kindly of them. Even if your product is no longer relevant at the moment it's important to stay in touch with your customers, as all the pilates and yoga studios offering free workout videos can attest to.
For marketers looking to pivot their brand strategies to adapt to the new normal, there is also an opportunity for brand partnerships. Lexus is helping to keep people inspired and entertained in their homes through the creation of 'Ambassadors at home' a video series created exclusively with Lexus Ambassadors Kate Waterhouse, Anthony Minichiello and Neil Perry. The short videos are full of lifestyle tips and insights ranging from exercises for kids to how to dress for a Zoom meeting.
Online experiences are democratising knowledge. We can all learn more, see more and experience more for free or at a reduced cost. However, while there's been a lot of free online entertainment, artists are also starting to charge. And why shouldn't they? An online gig can offer the viewer an even more intimate experience than the live event, and that's worth paying for.
In April the pandemic cost Nick Cave and the Bad Seeds the European and American legs of their world tour, rumoured to have been a standout production including a full gospel choir. So what did Nick Cave do? He hosted 'Idiot Prayer' a live-streamed event at Alexandra Palace in London. With the help of the renowned Irish cinematographer Robbie Ryan (The Favourite), a full film crew and an extensive production team; Idiot Prayer offered a rich cinematic and very up close and personal experience for just $29.
What these experiences have shown is the value of brand partnerships and doing something out of the ordinary for your customers during these extraordinary times. Nick Cave could have just live-streamed a gig from London but he did more than that – he created a cinematic event available at viewer friendly times across multiple continents. Lexus teamed up with people who could offer us useful content for free at a time when we need all the ideas we can get. It also highlights a potential opportunity for brands to sponsor 'live' events as it not only gives creative artists much needed support, it benefits your customers.
Creating or aligning your brand to meaningful at-home experiences adds tangible value to people's lives. The reality is, for the near future, our out of home lives will continue to be compromised. For brands and marketers, connecting with customers by inspiring, upskilling and entertaining them will create loyalty and connection. After all, in 2020 we all need something to look forward to.
Rebekah Yock is the director of The Source Insight, part of the M&C Saatchi Group.
Photo by Max Delsid on Unsplash.