Battle of the brands: Coca-Cola Life vs Pepsi Next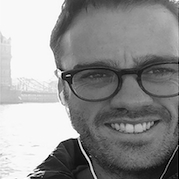 In this first of a regular 'Battle of the Brands' series from Meltwater, David Hickey compares the social media activity of Coca-Cola Life and Pepsi Next.
Pepsi Next entered the market first but when Coca-Cola Life launched in Australia earlier this month, the battle for the 'Green Cola' throne became a lot more exciting.
Both Pepsi Next and Coca-Cola Life are green-labelled Stevia-sweetened drinks, and both are likely backed by multi-million dollar marketing campaigns. But are they similar in terms of conversation volume, share of voice, sentiment, conversation themes, and geographical spread on social media and online news media? As a global provider of media intelligence solutions, Meltwater decided to take a look in its first 'battle of the brands' analysis for Marketing magazine. The analysis period was 1 to 16 April 2015.
READ: Pepsi got in first, but Coca-Cola Life's launch marks declaration of the Green Cola Wars »
Volume and share of voice
Coca-Cola generated 10 times the social media conversations than Pepsi, and represented 90% of online news media coverage during the analysis period. Twitter was the most popular social media channel for both brands, however Pepsi Next generated more mentions on Facebook and in review sites and forums.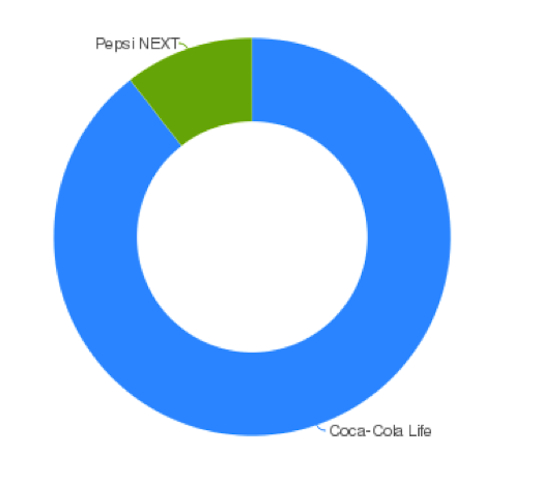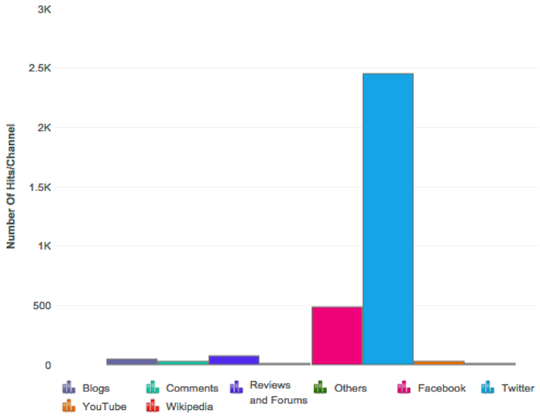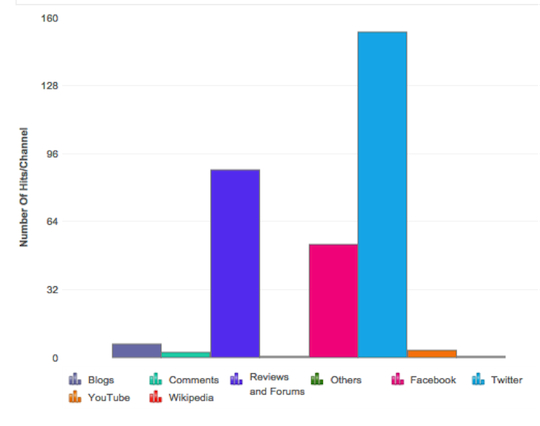 Sentiment
Both brands achieved mainly neutral to positive sentiment on social media. But Pepsi has generated more negative conversations than positive conversations on social media.
In terms of online news, both brands mainly generated neutral online news coverage, and both Pepsi Next and Coca-Cola Life generated more positive online news coverage than negative. Pepsi Next didn't receive any negative media coverage in the first two weeks of April, and many of its articles also mentioned Coca-Cola Life.
Click chart to enlarge.
Themes
Interestingly, the themes associated with Coca-Cola Life and Pepsi Next are very similar. Many conversations mention both brands, while brand awareness of Stevia is no doubt rising from its association with both products.
Click chart to enlarge. 
In the Coca-Cola Life theme cloud, you're probably wondering why 'donuts' was a prominent theme. We found over 500 social media conversations about Coca-Cola Life having as much sugar as three donuts:
"@msn_food: Coke Life With #Stevia Has as Much Sugar as 3 Donuts: http://t.co/kMAPq2EZGG via @MSNHealth pic.twitter.com/3q77cAfDiE"

— Vegetarian Butcher (@Vegebutcher) April 15, 2015
While in the Pepsi Next theme cloud, 'Melbourne' was prominently mentioned due to a recent activation of complimentary 375ml cans of Pepsi Next in Melbourne's Southern Cross railway station.  
http://t.co/lzPCiCYU0Y [VIC] Free 375ml Cans of Pepsi Next in Melbourne Central Big Clock Area #cheapdeals #freedeals pic.twitter.com/z1wz3RV6DW

— Cheap Deals Guru (@CheapDealsGuru) April 5, 2015
Geographical spread
Coca-Cola Life generated plenty of social media conversations in the US, while Pepsi Next generated the most conversations in Finland. Australian consumers and media were interested in both brands. In April, there was more online news coverage in Vietnam about Pepsi Next.
Click charts to enlarge.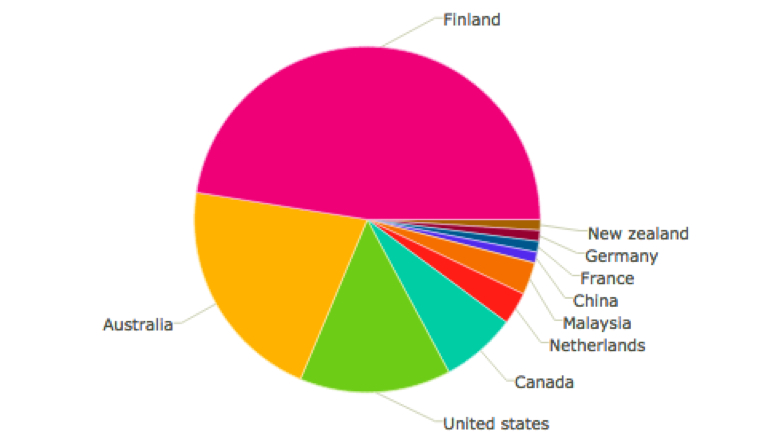 The wrap
Overall, Coca-Cola Life has generated more interest and brand awareness than Pepsi Next on social media and online news media as it continues its expansion to overseas markets such as Australia.
There is a huge opportunity for both brands to delve further into the media intelligence and extract some valuable insights that can help both brands build and nurture influencers and brand advocates, create cut-through messages that resonate with them, be more responsive (perhaps Pepsi could have done a little bit more on the marketing front to steal a bit of Coca-Cola Life's thunder in Australia) and analyse their marketing and customer strategies to further engage consumers.
RELATED: Coca-Cola Life TVC revealed: Coke travels to Norfolk Island to 'surprise' residents with new product »
Disclaimer: While Meltwater endeavours to provide accurate, reliable and complete information, Meltwater makes no representations in relation to the accuracy, reliability or completeness of the information contained in this article for general information purposes. Meltwater makes no representations and, to the extent permitted by law, excludes all warranties in relation to the information contained in the article and is not liable for any losses, costs or expenses, resulting from any use or misuse of the article.