Brand-funded 'Tuckerbox' doco series to showcase local food, agribusiness and tourism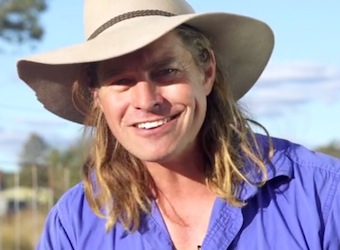 A brand-backed documentary series is in production that will explore companies and their supply chains in the Australian agriculture, food manufacturing and tourism sectors. 
Home for the documentary series will be Tuckerbox.tv, a new online TV channel. Set for launch on Australia Day next year (26 January 2015), the fully brand-funded series is currently in production for the web, but with an eye to its potential for broadcast TV and in-flight audiences.
Tuckerbox will explore the basic idea that each of the three sectors – agriculture, food manufacturing and tourism – holds the key to the others' prosperity.
Playing host is 'Farmer Dave' Graham, known to viewers of Big Brother, Dancing With The Stars and Australian Story.
Tuckerbox follows Graham around Australia, with each episode aimed at showcasing a culinary tourism destination, meeting interesting and passionate food industry professionals, and of course, experiencing the local food and wine.
Each of the seven-minute episodes segues to the next, allowing the short online video versions to be repurposed by combining them into 60-minute episodes for more typical TV distribution.
"Nothing connects consumers to Australian agriculture and locally made food brands like tourism. And in this country we do all three exceptionally well," Graham says in a promotional video for Tuckerbox.
The series investigates how farmers are supplementing their income through farm stay programs, how food science is promoted through international education and working holiday maker programs, and the story of some iconic brands through food factory tours.
Graham visits cellar doors, farmers markets, top restaurants, food festivals and agricultural shows.
Co-producing Tuckerbox is Adam Joseph, partner at Contact Publicity, a content and experiential marketing firm. A former social media adviser to Austrade, Joseph says the decision to launch the series as an internet channel in 2015 before it's made available to a broadcast television audience is to unlock the large, collective audience 'owned' by businesses in the Australian tourism, agribusiness and food manufacturing sectors.
The choice of Graham, who grew up on a Southern Queensland wheat, cattle and sheep station, as presenter follows a cameo appearance in the federal Government's 'Staycation' campaign, which highlighted food and wine tourism offerings in a bid to retain domestic tourism spend.
"David's a skilled presenter, but this role requires a lot more than an ability to can look and sound good on camera," Joseph says. "A media performer with no real connection to the land, or affinity with agriculture, simply couldn't do what David has done with the series. He's very much the 'real deal' and it shows in the fifteen episodes we've filmed to date."
Joseph says the series is not intended to demonise multinational corporations or talk down foreign product quality or safety. Rather its focus is on all the positives in locally-made consumer brands. "It doesn't matter where shareholders of listed companies may live – what really matters is their commitment to sourcing local ingredients and maintaining a local food manufacturing presence," Joseph says.
"For example, Australians should not only recognise Coca-Cola Amatil brands like SPC Baked Beans as locally manufactured, we should celebrate this and reward Australian made and grown brands, in this case, knowing our shopping choices support navy bean farmers from the Riverina to Kingaroy."