Brand purpose: reframing our brand conversations
Brands need to enjoy the conversation, cope with the tricky bits and keep our values central to everything we do, writes Kathy Benson, in this post on how to have mature and relevant discussions with the people who are most important to us: our customers.
What do humans do all day? That they love the most? If they didn't do it, they would miss it or get depressed? If you weren't doing it, you would look like a sociopath? Everyone does it.
Conversations.
And what do we do when we engage in a conversation? Sometimes we are quickly transmitting important, but short pieces of information – we might call these a quick chat.  But when we have a conversation, that is different, mostly we engage more deeply, speak for longer, listen as much as we speak, and are communicating something more purposeful and important.  Mostly when we are having a conversation, we are telling a story.
Brands are usually good at transmitting the important, quick information, but how many brands are communicating more deeply with their customers – how many tell their brand story?
And I don't just mean just talking about the latest sales promotions or reasons for purchasing, but really connecting with the customer… about the brand, about the brand's hopes and dreams and about the brand's life.
RELATED READING: Brand chatter: the three principles of 'always on' communications »
Brand chatter is important, but at times brands need to evolve this form of communication into brand conversation and that is different from talking about products, services, sales and promotions. Brand conversation should be about brand purpose. It should cover things like:
What does the brand stand for? Who are we?
what is the brand's personality?
what are its values?
what are the hopes and dreams of this brand (its mission; its goals)
who buys from this brand and why? and
what does the brand care about – what social issues does it get involved in?
Brands should use the concept of brand conversation to communicate with customers at a deeper level.  How do we start a program of brand conversation?
The first step is the hardest. We need to know ourselves first – that is, we need to know what our brand purpose is. So the above-listed brand purpose questions should be easily answerable, not just by the brand manager, but by everyone in the organisation. From the CEO down, every staff member should be able to provide a clear and consistent articulation of the brand purpose.
You would be surprised how few companies actually can achieve this. It is not that the strategy team or the brand team doesn't know what the brand purpose is – they probably do – but it can be rare for frontline staff, production staff, or even executive staff, to articulate the brand purpose,  and critically, to provide the consistently same articulation of their brand.
As a researcher, I am often asked to measure and evaluate brand health. The only way to determine if a brand is healthy is really to know whether or not it is achieving its strategic objectives for the company. After all, bottom line, a brand is just a tool that has a job to do.  Is that brand doing its job or not? The first step in measuring a brand's health is to understand its job, or its purpose, by understanding what the brand stands for, and by knowing the answers to the questions above. More often than not, the answers to these questions are not readily available – in fact, many times companies struggle to provide a concise vision of the essence or meaning of their brand.
The Dove 'Real Beauty Sketches' is a brilliant example of a brand starting a meaningful conversation (#WeAreBeautiful) on an important social issue. This campaign commenced a conversation with a purpose, and told a brand story that brought to life the brand mission and its values.
The response from consumers was positive and proved a deep and meaningful connection had been made.
Here are some social media responses to the campaign: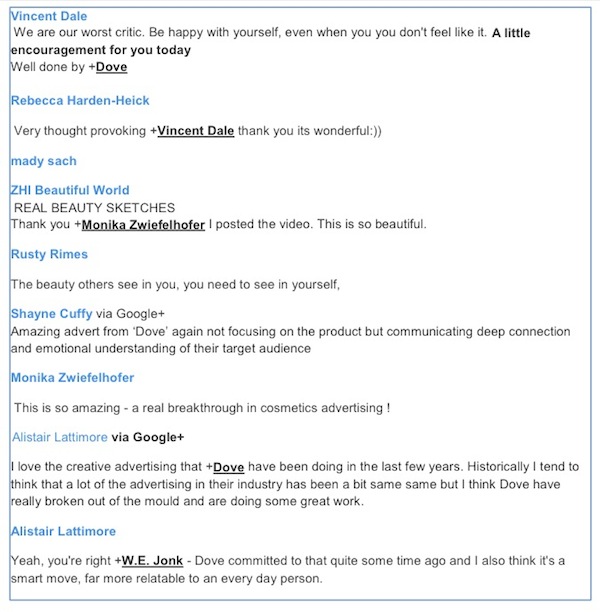 The second step is to remember to communicate and to communicate regularly. Just like it takes time to get to know a new person, it takes time for consumers to get to know a brand. It would be difficult, if not impossible to get to know a person without having a conversation with that person, and so to with a brand. Consumers need to converse with the brand, and converse about the brand.
The worst thing a brand can do is disappear or go silent in between 'campaigns'. In fact, it may be that 'campaigns' are now outmoded and redundant, to be replaced by a new communication style – the 'always on' style. 'Always on' relates to the messages and communication tactics that we plant in the social media space and constantly cultivate to ensure that our brand is discussed, debated and even challenged.
As brand managers, we need to respond, reflect and also challenge what is being said about us. We need to enjoy the conversation, cope with the tricky bits, learn how to be sensitive, keep our values central to everything we do, modify our viewpoints to suit our audience, and conduct mature and relevant discussions with the people who are most important to us: our customers. If things go wrong, or the talking gets tough, we can't afford to sulk, deny or defend. We can't go silent just because we haven't got anything to say, and we can't stay quiet when our customers need to us to engage.
Just like having a real conversation.