How brands around the world are live streaming their way to engagement
With advancements in the technology and the popularity of apps such as Periscope and Meerkat, live streaming is becoming a valuable marketing tool for brands.
Brands across the world have already started capitalising on the popularity of these apps and with the benefits the forum offers.
The biggest benefit associated with live streaming is the opportunity that exists to communicate with not only a larger audience, but an audience companies might not have been able to previously engage with through conventional methods. There are no restrictions on the content you can produce, meaning brands can broadcast something as simple as a product demonstration or interview, to an elaborate event such as a concert. Such a broad scope of options has seen brands from across the globe use the technology in different ways in order to tie in with a strategy that best fits their business.
Last year GE launched 'Drone Week,' a five day live event that featured video shot by a GE-engineered drone as it flew above and around five of GE's most remote facilities, giving the audience a rare glimpse of the locations where jet engines, wind turbines and industrial machinery are put through their paces to extreme limits.
Many brands have also utilised existing online personalities to help promote their brand. Rhett and Link are a popular duo of self-described internetainers (an amalgamation of 'internet' and 'entertainer') and have had their shows sponsored by major brands including Wendy's and Mcdonald's. In 2015 the duo released a musical video 'Just being honest,' which was sponsored by Wendy's as part of a promotion for the company's new beverage 'Honest tea.'
One of the great opportunities that comes with live streaming is that brands aren't restricted to just one app or platform. American fast food brand Dunkin' Donuts undertook an extensive campaign where it sponsored a five-concert series called DD Summer Soundtrack. The digital campaign was aimed to promote its iced coffee products among Millennials and used eight media platforms to create a broader reach. Facebook, Instagram, Periscope, Snapchat, Spotify, Twitter, Vine and YouTube were all heavily used and content including videos, custom playlists and behind-the-scenes footage remained on the event website after its conclusion.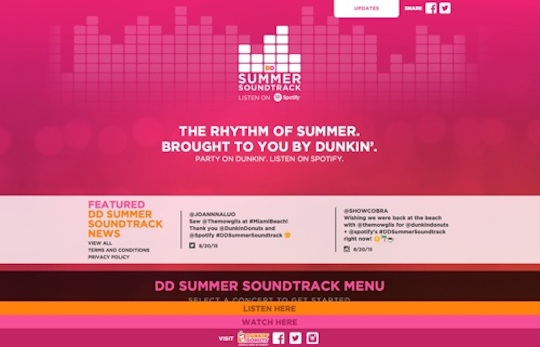 Music-streaming company Spotify was one of the first brands to experiment with live streaming on Periscope, using the app to broadcast an impromptu performance with Connor O'Brien of the band Villagers. Given the app was relatively new at the time, the event was deemed a success as it had several hundred live viewers and 1500 hearts (likes) during the live stream. It gained a further 200 viewers on the replay.
During its much larger 'Spotify House' campaign, the company turned to Meerkat to provide extensive live streaming of its massive South by Southwest music festival.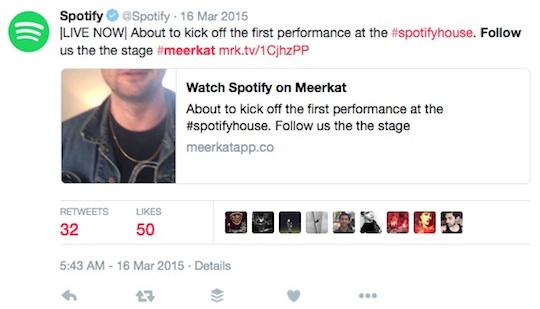 Adidas was another company quick to adopt the technology. Just one day after Periscope was released, Adidas streamed live video of Real Madrid superstar James Rodriguez signing a new contract with the brand. A link on the Adidas Twitter page showed a picture of Rodriguez and encouraged followers to download Periscope for a special announcement. The live signing was part brand's 'There will be haters' campaign.
While large-scale events with popular figures may attract an audience, it's not the only effective method to engage with consumers. Sports footwear brand New Balance regularly use their product team in live videos as part of product launches. By doing so, consumers are able to have their question answered live by product experts, which is cost-effective and bridges the gap between the in-store and online experience. New Balance extends its use of live video beyond the customer experience, using the technology internally to inform field reps on products and brand messages.
Pottery Barn is another high profile brand taking this cost effective approach to marketing through live video. Pottery Barn has developed a series of live videos featuring its employees. The videos act as infomercials on how to prepare for big holiday occasions like Christmas, Easter and Thanksgiving (US). Not only does this mean the brand saves money, but additional 'premium' features that require users to register their email, builds a sense of brand loyalty and the custom content keeps the target audience engaged, providing a greater chance of converting them to regular visitors.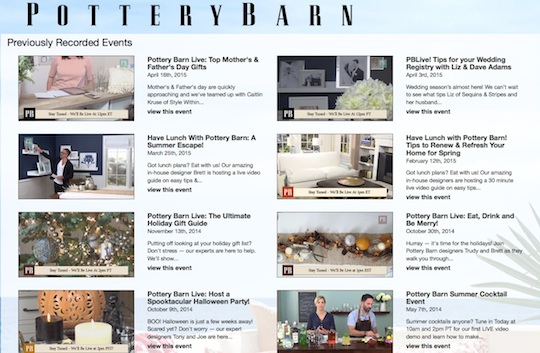 Nestlé's use of Periscope is an interesting case study. In June of last year the company became the first brand to produce ads via the platform. Periscope had few options for ads at the time and didn't offer a way for brands to pay for space on the site, however some creative engineering on behalf of Nestlé, found a way around that.
As part of its 'First days of summer' campaign, Nestlé hired a select group of notable Periscope personalities to broadcast classic summertime scenes around backyards, pools, beaches and parks. Following on from this, Drumstick opened its own Periscope account and live steamed various summer scenarios. Each video was accompanied by the hashtag #ad in the title, letting the audience know the content was sponsored. Twitter was also utilised as part of the campaign, where promoted tweets were used and 100 influencers were hired to tweet about the ice cream.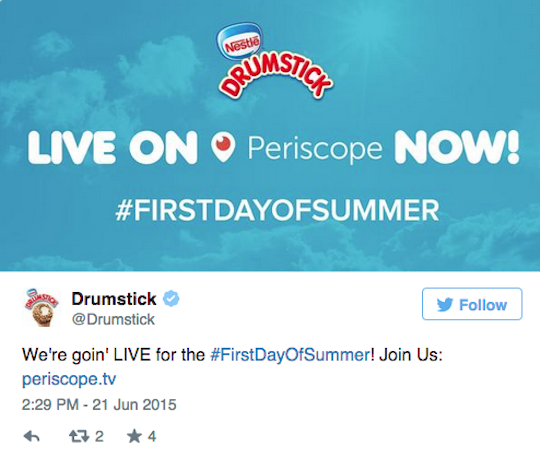 Cat food company Purina One recently adopted the technology as part of their 'Cat Camp' campaign. The 2 day event was a tremendous success and was viewed by over 10,000 people and received over 60,000 likes. The reach gained through the event, based in New York, was also significant with comments coming from various countries including Mexico and Brazil. The event, which was designed to educate people on whole body health for cats, is an example of content marketing done live. There aren't many people who are going to rush to a computer to watch a commercial on Purina One, but there are millions of cat owners across the globe keen to make sure they're doing everything they can to keep their loved pets happy and healthy.
Live streaming is a powerful advertising tool readily available to brands of all sizes, however it's important to have a solid strategy in place before using it. Each one of the above examples had a solid strategy behind their broadcast. In short, they didn't just produce content for the sake of it. Today's consumers are educated and won't watch a 10-minute broadcast from a company CEO unless there's a solid reason behind it. With this in mind, it's important to be creative and create customised content specially aimed at the target audience.