Brands on Snapchat: how Mondelez' Sour Patch Kids is using the video messaging app
The arrival on Snapchat of Mondelēz brand Sour Patch Kids is further evidence of the social messaging platform's attractiveness to major brands looking to reach the app's younger audience. Can it measure up to the three others below, recognised as the best brands using Snapchat?
As Snapchat grew and grew in popularity since launching in late 2011, inevitable talk about monetisation grew as well. But it wasn't obvious how the app could make brands happy, since it was originally designed just for sending images and videos that would vanish once a single recipient had viewed them.
However, in October last year Snapchat introduced a new feature, called Stories, that allows a conversation of more than 10 seconds that stays visible for 24 hours. This is more of a 'broadcast' feature of the app that has surely made brand teams take another look at Snapchat.
RELATED: Most popular social media platforms in Australia – June 2014 »
Here's how the Mondelēz sour jelly baby brand Sour Patch Kids is implementing its Snapchat campaign this week, plus three other brands recognised as the best brands on Snapchat.
Sour Patch Kids uses Snapchat for a week of pranks in NYC
Snapchat username: SourPatchSnaps
Sour Patch Kids ('First They're Sour, Then They're Sweet') centres its brand around pranks. And then hugs. But first pranks – Sour Patch Kids has teamed up with social media comedy celebrity Logan Paul to document a week of pranks in New York City.
Farrah Bezner, marketing director for Mondelēz's candy division, told Adweek: "Snapchat is a quick, easy and fun way to communicate that provides a different kind of creative expression than other platforms."
The Snapchat project will be supported across the brand's other social channels this week, as well as Paul's.
Taco Bell uses Snapchat to excite fans about burritos
Snapchat username: Tacobell
The fast-food chain said in its Shorty Awards entry that, since the Beefy Crunch Burrito is Taco Bell's "most obsessed-over, limited-time menu item," it wanted to announce the burrito's limited-time return in a way that got fans as excited as the burrito itself. "So we became the first major brand to leverage Snapchat and created the world's first limited-time product announcement. On Twitter, we teased that we'd be announcing something big. And fans clamoured to follow Taco Bell on Snapchat to get their exclusive, destructible message. In fact, so many fans rushed to follow us on Snapchat that we broke the platform for an entire day."
And when Taco Bell finally made the announcement, its fans did the work for it, capturing the vanishing image and posting it across the internet for all to see.
Honda teases the Acura NSX using Snapchat
Snapchat username: Acura_Insider
The Honda NSX (known as Acura NSX in the US) was last produced in 2005. For its return the car would do a lap on live TV at the Indy 200. But before that, it took to an unexpected place to tease its return: Snapchat.
Here's how Acura approached its Snapchat campaign: "Sharing footage of the NSX prototype on Snapchat created an early round of industry media coverage and inserted Acura into the conversation about brands willing to trying new social platforms. That willingness to move early into uncharted territory earned Acura mentions in Business Insider, Adage, and Digiday," the team told the Shorty Awards.
"More importantly, it put Acura on the list of brands included in media conversations about Snapchat, earning mentions across dozens of marketing and even political conversations as brands and celebrities begin to find room for Snapchat in their communications strategies. We followed the Snapchat activation with graduated reveals on Vine, Instagram, and YouTube, with more than 1 million organic views. But Snapchat remains the coolest part of the new NSX prototype reveal because it was unexpected and resulted in a steady stream of earned media recognition."
"If you look at the numbers, Snapchat is way past being a niche platform," Alicia Jones, manager of Honda and Acura social marketing, told Digiday. "People use Snapchat to communicate with friends through pictures and video in mobile – it's a fascinating and important trend in digital and social right now, and brands have a place to play there."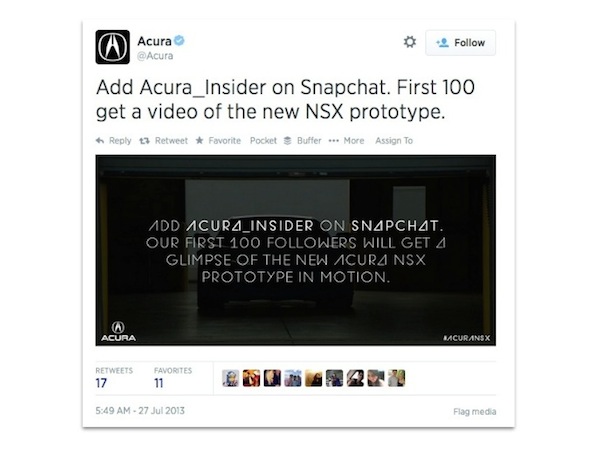 Wet Seal gives control of its Snapchat account to a 16-year-old blogger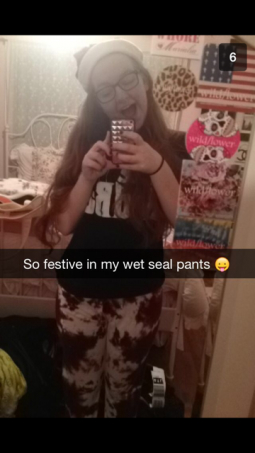 Snapchat username: WetSeal
Taco Bell and Acura NSX entered strong cases for winning the Shorty Awards 'Best Brand on Snapchat' category, but both were defeated by youth clothing brand Wet Seal.
"We wanted to be thoughtful about how we could exponentially increase our reach, so we partnered with an influencer in the teen space," Leslie Hall, president at Wet Seal's digital agency ICED Media, told AdAge. That influencer was Meghan Hughes, a 16-year-old social media star who blogs about beauty and fashion.
Wet Seal said in its winning Shorty Awards entry: "Through cross-platform promotion and word of mouth, coupled with the influencer partnership, Wet Seal had grown its Snapchat audience to over 9000 connections in just two weeks, and Ms Meghan's takeover was the most viewed brand 'story' in the platform's history – with more than 6000 views in 24 hours. In the two months since Wet Seal has colonised the channel, the account has earned over 250,000 'story' views, proving that Snapchat is a viable platform for brands and marketers and that Wet Seal is the best-in-class brand on the channel."