Building trust through user-generated content: Parents' reviews winning customers for a French baby-skincare brand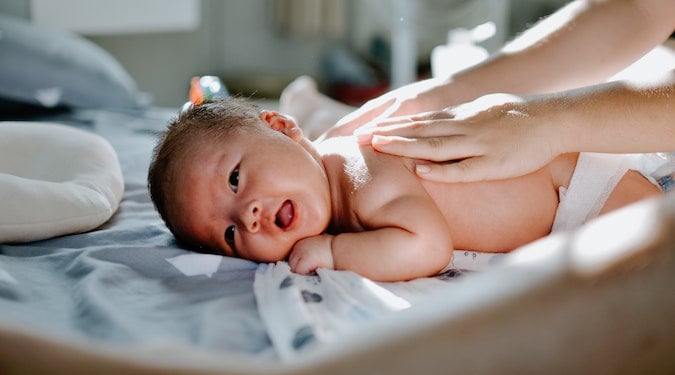 This case study examines how a skincare retailer integrated user-generated content – via a baby product review site, Tell Me Baby – into its ongoing marketing strategy to build trust, authenticity and reliability with customers. 
Background
Mustela is a French company that offers a complete range of natural and safe skincare products for the delicate skin of babies, children and pregnant women. Established in Australia for over 10 years, Mustela has built its reputation as a premium brand in the baby skincare category partly because of how user-generated content builds trust amongst parents. Tell Me Baby's social marketplace has been our key partner in achieving this.
User-generated content (UGC) is a vital marketing asset for Mustela as our products frequently have glowing feedback from parents, which is why sharing reviews as widely as possible is fundamental to our ongoing marketing strategy. It's a vital channel for convincing Mustela customers to buy our brand for the first time, after which they often become referrers themselves.
Challenges
The biggest challenge for Mustela's marketing is how we can communicate our premium product and value proposition to our customers. With a higher price tag than some of our competitors, it's important that our customers understand the quality and value of our products. Mustela uses natural-origin ingredients, which are developed in partnership with healthcare professionals and Mustela researchers to ensure safety and efficacy. When customers understand that value, they're more likely to be happy to pay a slightly higher price point.
Our second key challenge, but also our greatest opportunity, is that parents are often highly knowledgeable and selective about what they want for their baby and they trust other parents' experiences of using Mustela products; this is a key factor that influences potential customers' perception of the brand. It's not a casual decision. Naturally, parents want the best for their babies and brand recommendations from other parents play an extremely important role in our customers' purchasing decisions.
In light of that, Mustela needs to be highly visible on multiple touchpoints that parents use to research opinions and feedback from other parents who have already used the products. It's usually not enough to be seen just once; we need to earn credibility and trust by consistently appearing in front of our customers, backed up by strong recommendations by their parental peers.
The third challenge faced by Mustela, which is fairly specific to our category, is the short life cycle of the target audience – their babies grow fast! Meaning that it's even more important that our brand reaches front-of-mind quickly and stays there consistently for our audience.
Objectives
Our UGC campaign with Tell Me Baby had several core objectives. We want to be visible on the Tell Me Baby platform, which is an important channel to target parents who are actively looking to purchase baby skincare products and are seeking other parents' opinions. We also want to syndicate reviews from Tell Me Baby to other platforms that are also important touchpoints for parents doing research – for instance, Mustela's own social channels and brand website.
Strategy
Reviews are particularly powerful for more specialised products that solve a specific problem, such as a skin condition like eczema. In these cases, parents do extra research to ensure that they have identified the best product for their child and will rely more heavily on recommendations from parents who have used the product for the same condition on their own child.
Mustela recognises that reviews must always be independent if they are to be effective in driving purchases from other parents; therefore, mobilising Tell Me Baby as an independent, trusted third party to collect and publish review content is essential.
Mustela partnered with Tell Me Baby via a premium listing, mobilising every relevant tool to boost our brand – page and ROS ads, an API feed and widget for our own website, the ability to respond to reviews, native review ads, reward points for members and placement on social media and subscriber emails.
In terms of audience, our core demographic is reflected in Tell Me Baby's readers: female (86 percent), aged 25-44 (64 percent) with 1-2 children (86 percent) and most of those children are aged 0-3 (70 percent). 17 percent of them are pregnant at the moment and they're making their purchasing decisions. 31 percent are on a household income of $50,000 to $100,000 – 24 percent are between $100,000 to $150,000.
Rollout and results
Mustela's metrics for success for its UGC campaign are straightforward but stringent. On the Tell Me Baby channel itself, we sought a significant increase in the number of reviews published each month; a high average star rating for every product and for the brand as a whole; and consistent traffic flow to Mustela's product pages.
On our own channels, we closely monitored how syndicated reviews performed by reach, impression, engagement and clicks.
The initial campaign was rolled out for a 12-month period. It was highly successful; so much so, in fact, that Mustela has now been a partner of Tell Me Baby since May 2017 and is now in our fourth year of the partnership.
457 high-quality genuine reviews have been collected to date on the Tell Me Baby platform, with an increase in reviews each and every month of the partnership. 314 user-generated product images of parents using the product with their baby were also collected and published alongside reviews.
We've seen 0.94 percent click-through rate on Mustela's native review ads on Tell Me Baby, which is significantly above the industry average. Putting UGC in front of our customers on competitor product pages has driven significant traffic to our own page.
Syndicated reviews on Mustela's channels (social and brand website) have provided a significant increase in traffic, engagement, and click-throughs to retailer websites, with consistently successful retargeting campaigns for audiences who have already engaged on our channels.
Recently, Mustela was informed that Tell Me Baby has partnered with Bazaarvoice, the world's largest UGC platform and as such, Mustela is anticipating a further boost to its UGC content in the near future.
In the coming months, Mustela will launch the Tell Me Baby widget on our brand website, enabling Tell Me Baby reviews and average star rating to be published. Parents will be able to read the UGC content wherever they prefer – on the Mustela website, or on Tell Me Baby.
Conclusion
Overall, UGC has been game-changing for the way Mustela speaks with our customers. At the end of the day, parents trust other parents when it comes to their babies' comfort and wellbeing. Content from peers has authenticity and relatability that cannot be replaced by other forms of marketing. Now, it's not just about Mustela communicating with our customers; it's about facilitating conversations amongst our audience through a reputable social marketplace and allowing the facts and positive personal experiences with our brand to speak for themselves.