'Cheer Bleeders' promote period undies in new Bonds campaign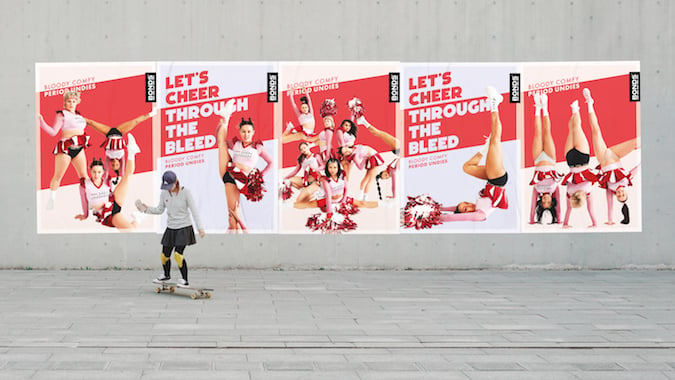 Bonds has released the latest integrated campaign for its 'Bloody Comfy Period Undies'.  The spot encourages Australians to feel comfortable during their period and 'cheer through the bleed'. 
Created in partnership with Special Group Australia, the video shows 'Cheer Bleeders' wearing period undies and cheering about their periods in a raw and humorous way.
The campaign aims to change the uncomfortable experience many Australians still feel when getting their period, with many taking time out from school, sport and other activities due to discomfort, teasing and fears of embarrassment. Instead, Bonds strives to show people that you don't have to follow the conventional rules around periods.
"Bonds' mission is centred around making the world a more comfortable place for everyone and there has never been more opportunity to do this than when it comes to young Aussies and the cultural norms around periods," said the creative director at Special Group, Luke Thompson. 
"The Cheer Bleeders do just that by cheering proudly and positively about periods and everything around them. They also hero Bloody Comfy Period Undies with a fresh voice that'll appeal to teens in the channels they use." 
The film assets were shot by director Leilani Croucher and the Revolver team. They will be shared across Instagram, Facebook, TikTok and YouTube. In addition, TikTok influencers have created bespoke content with personalised cheers to be posted under the #Periodtok hashtag.
Bonds' marketing manager Kedda Ghazarian added: "No period should hold anyone back. Special Group have developed a campaign with the confidence and attitude to match."
Previously online labels like Modibodi championed the category of period undies, removing the need for pads and tampons. In 2020 iconic Aussie brand Bonds launched its own period undies line and has promoted it with campagins, such as its 'Unplugged' series last year featuring notable Australian musicians. 
Found this article interesting? Read about Bonds Pride range and Out Now campaign.