Facebook rolls out real-time bidding after gangbusting trial
Facebook has rolled out a real-time advertising exchange allowing targeting of users based on their immediate web-browsing habits, or linked to current events, such as sports results, according to the Financial Times.
The new system, Facebook Ad Exchange or FBX, launched in the US last Thursday as the social network attempts to bolster its revenue streams. It uses real-time bidding where brands compete in automated auctions for the right to show their display advertising to individual users.
The FBX platform allows advertisers to target advertising to users with greater immediacy and context, and lets brands 'retarget' by following up a browsing session on their website with an ad, similar to the example from one of the trial partners, TellApart, below.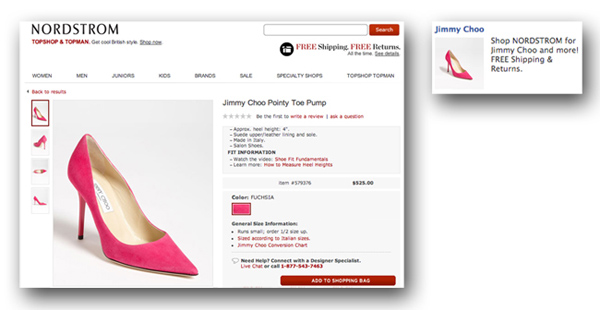 Eight partners – TellApart, AdRoll, Triggit, DataXu, Turn, Appnexus, MediaMath and The Trade Desk – have been involved in a trial a trial of the FBX advertising system since June. Many of them are reporting positive results on campaigns conducted for their clients.
TellApart, reported a 10- to 20-fold increase in ROI for clients, including eBags, which saw a 15-fold return on its ad spend. Another re-targeting specialist, Triggit, experienced a fourfold increase in ad ROI for client Shutterfly, Mashable reports. Christina Park, marketing director for Triggit, says the ads also provided an 18% to 30% conversion lift. Clickthrough levels per dollar spent were 4.4 times higher than for normal ad exchanges, while the cost-per-click of each order secured was 6.5 times lower in Shutterfly's campaign.
"Real-time marketing is getting to be a really important component of digital advertising," Rebecca Lieb, an analyst with business consultancy Altimeter Group told the Financial Times. "We'll see a lot of event-triggered marketing in the upcoming election cycle."
However, Rob Leathern, CEO of Optimal, a preferred marketing developer for Facebook, warned Warc that FBX had limitations. "There's no social element," he said. "If someone only does FBX retargeting ads, they're missing a large part of the story."
The launch did little to buoy Facebook's dwindling share price last week, which continues to fall since its disappointing stock market debut in May.
Facebook is yet to comment on Australian plans for the service.