Facebook-style brand pages feature in Twitter redesign
Facebook-style brand pages are coming to Twitter, with the social networking site releasing a redesign that aims to make the service friendlier to both its consumer members and advertisers.
On its Advertising Blog, Twitter says the enhanced profile pages, set to roll out globally over the next few weeks, will help create more compelling brand destinations by using large header images for displaying visuals, logos and taglines, and allowing control of the message visitors see when they first arrive.
The new design will allow brands to feature their most engaging and important content by promoting a tweet to the top of its page's timeline and auto-expanding the tweet so that visitors can instantly see the photo or video content.
Launch partners for the new pages include American Express, Best Buy, Bing, Chevrolet, Coca-Cola, Dell, Disney, General Electric, Hewlitt-Packard, Intel, JetBlue, Kia, McDonald's, Nike, PepsiCo, Staples, Verizon Wireless, NYSE Euronext, Heineken, Subway and Paramount Pictures.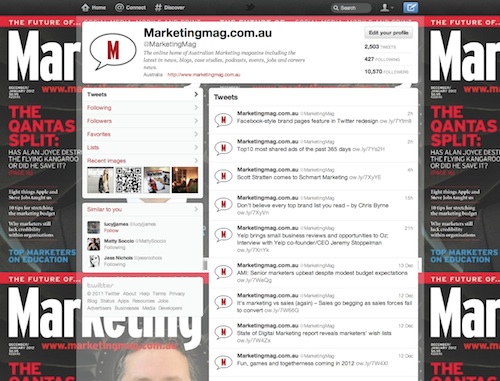 For consumers, the redesign aims to make the Twitter experience a "faster, simpler way to stay close to everything you care about."
The simplified layout sees Twitter's features condensed into four tabs: Home, Connect, Discover and Me.
The Home page remains roughly the same, but with a streamlined layout and the ability for tweets to auto-expand, showing images and other media underneath the tweet rather than opening those links on the side of the screen.
Twitter CEO, Dick Costolo, says the change was made to prevent the content feeling "disconnected from the tweet" so that "the universe of the tweet is contained within the tweet itself".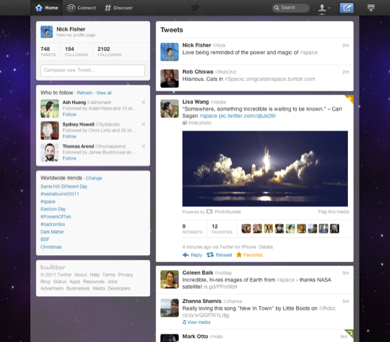 The Connect section is the place to see who has followed, mentioned, retweeted or favourited one of your Tweets. Its aim is to enhance the flow of conversation.
In the Discover area of the site, users can search and view news recommendations customised according to your location, what you follow and what's happening in the world. Twitter promises that the more you use it, the better it will get at serving up personalised content.
Me is the new profile page tab. Like brand pages, it has the same cleaner layout that will enable users to showcase more about themselves.
This new tab menu is the same across all devices (updated iPhone and Android apps are already available) so the same experience will occur across mobile and desktop.
Twitter's co-founder and head of product Jack Dorsey said the changes should make the site's capabilities clearer to new users.
"At the core, there's less places that you have to click and less places you have to learn," he said.
According to adweek: "the revamped brand pages could also help with Twitter's efforts to turn accounts and hashtags into what Dorsey called 'the new URL'. If Disney, for example, ran a TV commercial and wanted to direct viewers to its website, in the past it would include "www.disney.com" in its ad. These days, the ad is more likely to include the @disney Twitter account or a campaign hashtag, said Dorsey. With the redesign, the ability to search for those accounts and hashtags has moved front and center."