Fairfax share of voice outstrips News on Twitter
In some good news for Fairfax, the publisher's mastheads are dominating share of voice on Twitter, according to a study.
Analysis of tweets containing links to 26 of the top news and opinion sites in Australia, shows that Fairfax's the Sydney Morning Herald and The Age have significantly more stories shared on Twitter than their News Ltd competitors.
The study, conducted by Queensland University of Technology professor Dr Alex Burns found that combined Fairfax's top four online mastheads gross 35% of links shared, compared to 25% for News Ltd's top four.
The Sydney Morning Herald was the strongest performer commanding 20% of news carrying links, followed by theabc.net.au with 19%, The Age with 10%, news.com with 8%, The Australian with 7%, the Herald Sun with 7%, and the Daily Telegraph with 5%.
In a blog entry, Dr Burns writes that the findings, collected between 15 and 22 June, are a strong result for Fairfax in what was a bad week for company. While the coverage of last week's events, which saw Fairfax announce 1900 job cuts and major upheavals to its business model, was heavy across media outlets, Burns concedes Fairfax's share may have been artificially boosted, but as this was the first time the analysis was conducted it remains to be seen how much of Fairfax's lead can be put down to the news.
In Brisbane, Fairfax's online-only news site Brisbane Times outperformed its local News Ltd rival, the print-and-online Courier-Mail, by a small margin of 900 tweets with both commanding 3% share of voice. Fairfax's Australian Financial Review recorded 2% share of news carrying tweets.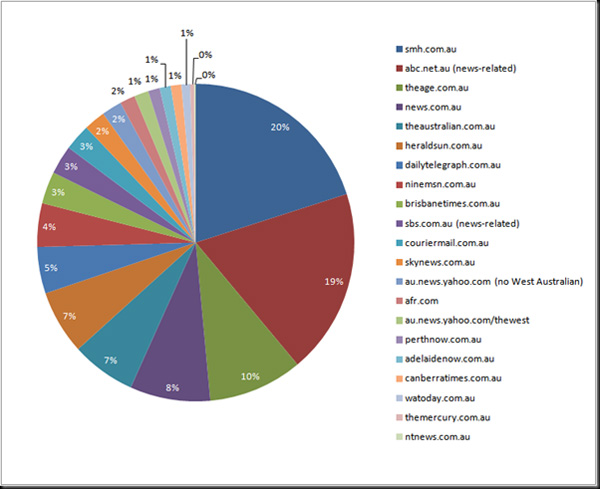 In terms of opinion sites, Crikey dominated the competition, garnering 43% of links shared. It was followed by the ABC's The Drum (or articles by non-ABC commentators published under the abc.net.au/unleashed URL path), with 20% of share, and News Ltd's The Punch which upstaged Fairfax's opinion site, the National Times, by 2%.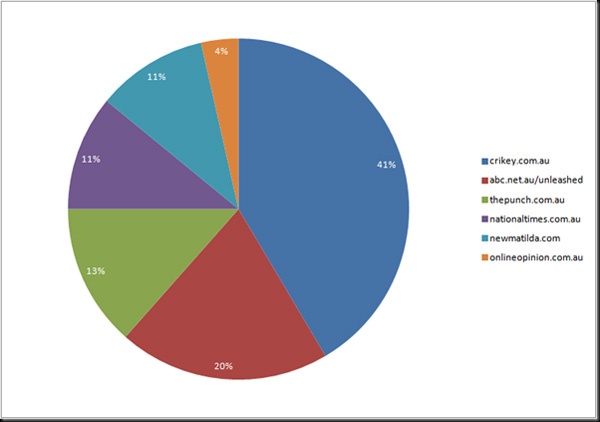 With both major news providers restructuring for a digital future, the analysis is being conducted to investigate whether circulation-style figures can be built by tracking the source of online readers, in this case by tracking the links being shared on Twitter.
Burns hinted at plans to take into account the number of followers each sharing user has to gain a more complete picture of who is performing the best when it comes to sharing on Twitter. Analysis has also been conducted into the impact of The Australian's paywall on its Twitter sharing.
The links tracked in the study were both full links and also links where the actual URL contained a shortened t.co, bit.ly, or other short link, but eventually pointed to a news site.