First look: The Content Issue of Marketing mag
Marketing is pleased to announce the launch of its August-September 2016 issue, The Content Issue. This issue is 100 pages of fascinating, insightful stories from brands, marketers, thought-leaders and our dedicated editorial team. The issue is now on its way to subscribers and newsstands. Subscriptions can be purchased online.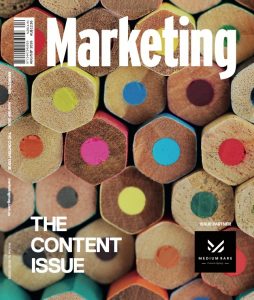 In The Content Issue we:
… Explore what virtual reality will mean for brands, speak to the leading players and learn why this technology will impact our lives in a way even the most tech-savvy among us will struggle to predict.
… Speak to the cofounder of Karma Cola about how the upstart Kiwi challenger brand tells stories about transparency through beautiful content and disruptive design.
… Celebrate 60 years of commercial TV in Australia, we look back at some of the big events, famous characters and current trends.
… Hear about the three fascinating dichotomies of Olympic branding.
… Collaborate with Issue Partner, Medium Rare Content Agency to create some of the best insights on content marketing you'll read all year. Learn from Sally Wright on when and how to sell advertising on a branded content platform; Karla Courtney lets us in on the secrets of how to build a kick-ass content app; Nicole Sheffield breaks down the three types of content; and, Coles shares insights on customer-driven content from Coles, the most-read magazine in Australia.
… Go behind the scenes of four fantastic case studies: behind the scenes of Dumb Ways to Die, CSIRO comes out swinging, Ambulance Victoria's unsung heroes and Intergrain's visualiser technology industry first.
… Hear from our Content Partners: Meltwater breaks down how to build a content strategy using media intelligence, Forrester argues that content marketing must support customer experience, SSI surveys Australians to find out which brands have the most Olympic cred, and UnLtd weighs the pros and cons of confronting content.
… Learn from our Columnists: Steve Sammartino says 'let's get visible', Jac Phillips on publishing as the new marketing, Sérgio Brodsky shoos away the culture vultures, Mark Ritson says clutter is a sign of content's coming of age and Con Stavros closes the issue out.
* * * * *
For subscriptions or to purchase our most recent issue, The Identity Issue, visit the Niche Media online shop »