Hilarious parody lampoons quest for viral content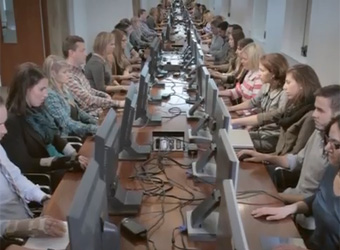 The quest for viral content has been lampooned in a hilarious parody video which pokes funs at the obsession for clicks, likes and views that exists in some circles of the marketing fraternity.
The video about viral videos, created to go viral by agency john st. introduces the world to Buyral, a service where you can buy views for videos, just like it's possible to buy likes for Facebook pages.
"Want to make content that's guaranteed to go viral? With new service Buyral it's guaranteed!" the voiceover promises.
Rooms full of mouse-clicking drones click on videos non-stop to raise their view counts, and the service even provides innovative click outsourcing through nursing homes, schools and 'clicktern' programs.
What will this fantastic service cost? One million views can be purchased for just $29.99, while five million views is on sale for $32.99 for a limited time only, according to Buyral's website.
Because millions of views result in millions of sales, right?
Read: Marketing's industry panel debate over the worth of viral content.