How brands are celebrating NAIDOC week 2021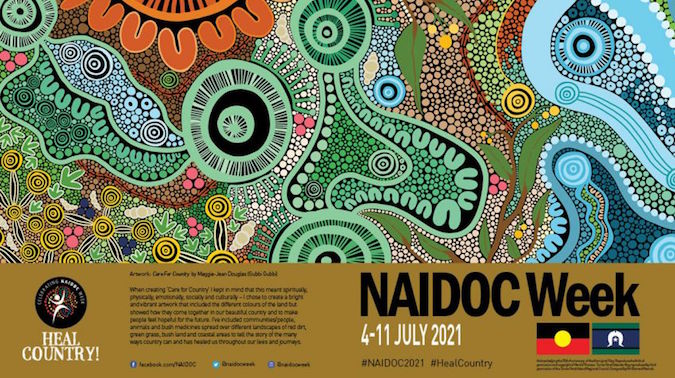 NAIDOC Week is currently running (4 – 11th of July) with a theme of 'Heal Country!' –  it is an opportunity to celebrate the history, culture and achievements of Aboriginal and Torres Strait Islander peoples. It is also a chance for the whole community to listen, learn and support Indigenous peoples and ventures.
From a business perspective, the National NAIDOC Committee is actively championing Aboriginal and Torres Strait Islander businesses to bring the week to life, partnering with a wide variety of companies.
This year Marketing takes a look at what brands and businesses are doing in Australia to recognise NAIDOC Week. 
Facebook Australia and Campfire x
Facebook Australia has partnered with Indigenous Australian led creative consultancy Campfire x to share a discovery initiative called 'Connect To Country'. The Connect to Country Facebook page has a range of storytelling resources, including videos teaching people how to acknowledge Country and tips for connecting with local community and language groups.
A pilot series of unique First Nations stories has also been launched. The series will be served to Facebook and Instagram users who live in corresponding areas, connecting them with the land they're on.
"There are so many positive stories in our Aboriginal and Torres Strait Islander communities that need to be shared, and stories told by our own people," says the co-founder of Campfire x Brad Cooke.

Australia Post
Australia Post recently updated its addressing guidelines to include traditional place names and Acknowledgement of Country. This idea was started in the community by Gomeroi woman Rachael McPhail. It encourages people to recognise and consider the history and the connection that First Nation Peoples have to country.
In addition, it has shared a video on social media of Kaurna and Narungga artist and Australia Post employee Richard Brown, explaining what inclusion means for his community.
Woolworths
Woolworths Group has partnered with the National NAIDOC Committee to distribute the 2021 NAIDOC Week poster to Woolworths supermarkets and Metro stores nationally, to help communities across the country celebrate. Around 200,000 NAIDOC posters will be shared to 1,000 Woolworths outlets across the country. This year's poster features the work of Gubbi Gubbi artist Maggie Jean-Douglas and is titled 'Care for Country'.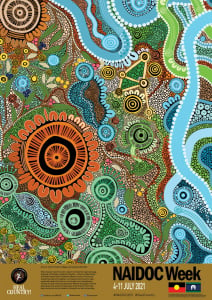 Network 10
Network 10 has a range of programming around NAIDOC week like most broadcasters, but also made a simple but effective change to its regular schedule. The weather was presented a little differently on the 4th of July to kick-off the beginning of NAIDOC week and people took to social media to share their approval. Weather presenter Amanda Jason used the traditional Aboriginal names for cities, rather than colonial names when presenting the forecast.
Bravo @10NewsFirst for the #NaidocWeek weather forecast #NAIDOCWeek2021 pic.twitter.com/zBSRfGSsC4

— Mich-Elle Myers (@MichMyersMUA) July 4, 2021
Tourism Australia
Tourism Australia has launched a 'Welcome To My Country' video, featuring prominent Aboriginal Elders. The messaging promotes tourism experiences  that connect travellers with the Traditional Custodians. Consumers are encouraged to connect with over 185 Aboriginal guided tourism offerings promoted by the 'Discover Aboriginal Experiences' marketing collective.
In addition to the campaign, Tourism Australia has shared its fourth Reconciliation Action Plan. The action plan includes strategic priorities and a framework for Tourism Australia to follow, allowing the organisation to better partner with Aboriginal and Torres Strait Islander peoples and businesses to achieve its goals. The plan includes a message of support from the CEO of Reconciliation Australia, Karen Mundine. 
ABC
The national broadcaster is elevating Indigenous voices to promote NAIDOC week. It has created a promotional campaign running for the entire week, featuring Aboriginal and Torres Strait Islander journalists and presenters from the ABC. The staff share their personal experiences, acknowledging the importance of Indigenous storytelling all-year round.
Pinterest
Pinterest is highlighting its NAIDOC Week Shop in Australia, with several indigenous owned businesses featuring to make it easier for Pinterest users to discover and shop their products. The shop will run throughout the month of July for maximum exposure. From a content perspective, Pinterest is also promoting Indigenous creators, featuring their 'Idea Pins' across popular categories like cooking, beauty, food or fashion.
According to Pinterest, searches for NAIDOC Week Activities have increased by 80 percent , while searches for Indigenous activities for kids have increased by 25 times. Additionally, users are looking to glean inspiration from Indigenous artists, with searches for Aboriginal Art tripling.

The 2021 National NAIDOC Poster, 'Care for Country' is designed by Gubbi Gubbi artist Maggie-Jean Douglas.
Found this article interesting? Read this article about how the creative community needs to step up and begin supporting, representing and amplifying Indigenous Australian voices.
Or read this interview with Yatu Widders Hunt, the general manager of Cox Inall Ridgeway and founder and curator of Australian Indigenous Fashion.