Instagram advertising launches in Australia with Vegemite, Audi, McDonald's and others
Just over a year after Instagram launched its paid brand opportunities in the US, the social network has announced it will start showing advertising on the feeds of people in Australia.
Instagram advertising will take inspiration from high-quality magazine ads, designing them to be "enjoyable and creative" and "seamlessly integrated" into the browsing experience.
Brands that have been "carefully selected" to show their advertising at launch include Tourism Queensland, Vegemite, Ben & Jerry's, Toyota, Flight Centre, Audi, Lenovo, McDonald's and Philadelphia Cream Cheese.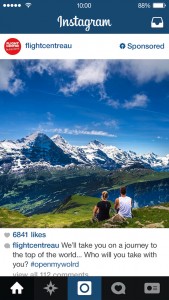 "Ads will be rolled out slowly, as we focus on delivering a small number of beautiful, high-quality photos and videos from a handful of brands that are already great members of the Instagram community," an Instagram statement says.
"Instagram has big ideas for the future, and part of making them happen is building Instagram into a sustainable business."
Users will see in their main feeds photos and videos that look similar to others but are clearly marked with a sponsored label. Users can hide ads and provide feedback if they do not like something they see.
Instagram advertising launched in the UK this month with brands including Starbucks, Cadbury, Channel 4, Rimmel London, Sony Music, Estée Lauder and Waitrose.
Instagram first launched advertising opportunities for brands in the US in September 2013.
READ: Instagram Ads: the dangers and exhilaration of charting new territories
What the brands say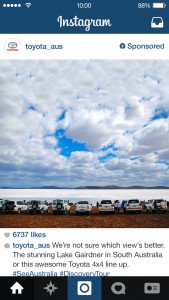 Darren O'Brien, president cheese and grocery Asia Pacific at Mondelez International, which will show advertising on the platform for Vegemite, says Instagram is at the forefront of driving brand engagement.
"There's no denying that social is part of the media ecosystem and if that's where our loyalists are consuming content, brand participation is a natural extension of this."
Audi Australia's general manager marketing Kevin Goult says advertising on Instagram has helped the brand stay ahead of the curve and produce innovative marketing.
"Instagram is a visual platform that marries well with beautiful design and Audi is known globally for producing contemporary and innovative vehicle designs, and as a result it has been working well for us since launch."