Malcolm Turnbull's social media savvy: why 2016 will be the year of social campaigning
Australia's new prime minister designate Malcolm Turnbull last night announced his leadership challenge via his social media platforms. What lessons can politicians take from the immediacy of the platform to win the trust of the public?
Sean Sammon has been tracking sentiment in the Bastion S+GO Social Media Analysis Centre overnight. In this opinion piece, he says Turnbull's use of Twitter only highlights that 2016 will be the year of social campaigning.
Simple, timely, jargon free: Turnbull's armour
Malcolm Turnbull last night used Facebook and Twitter to distribute his urgent message of challenging the leadership. In doing so, he cleverly used social platforms to engage the public view – ahead of the vote.
A sophisticated social feed on his website, an Instagram following of nearly 9000, and a capable use of Facebook and Twitter, Malcolm Turnbull has embraced social media in the same way that Kevin Rudd embraced early inceptions of it in 2007.
The humanising quality of social platforms, and Turnbull's demonstrable proficiency in the use of social media has positioned him as a leader that is relevant and has his finger on the pulse. This is especially discernible in juxtaposition with his predecessor whose government has been described as 'out-of-touch' and following 'captain's-call policies'.
Politicians looking to engage a passive public could learn a few things from Turnbull.
Turnbull used his own channels to put out statements in the first instance, earning trust with the public. He used simple language: avoiding political jargon and platitudes in his blog post. During times of change, the public want to trust their leaders and the more politicians can make their language relatable, the more likely they are to hear your message.
2016: year of 'Instapol'
As US pollies embrace Instagram as a visual way to promote their values, policies and personalities, focus turns to the platforms' aspirational positioning to ask whether it has potential to affect the infamous 'Australian apathy' for politics.
As politicians master the art of 'selling themselves' to the public, they (and their media advisors) have an opportunity to harness the immediate nature of social platforms – but are they ready to get on board?
Instagram is emerging as one of the US's most powerful tools in political campaigning – are Australian politicians missing out?
The great 'Australian apathy'
As the Twittersphere illustrated, the immediacy of the social media only highlights how important the role real-time communications plays in today's landscape.
It almost seems that year on year, a vast proportion of the public's voting decisions rely on the 'person before the policy' way of campaigning in Australia.
Advertising creative Neil Lawrence headed the 'Kevin '07' campaign that had us witness just how game-changing social media was to become in Australia. The ingenuity of the late Lawrence was that he knew that early adopters of social media would have an innate leg up on their competition.
At the time, social media was still a 'new' thing, and Twitter was only a year old. The perceived 'risk' social media presented to their public image made public figures reluctant and unsure on whether they should shun or embrace the newfound way to speak directly to their voters.
The rise of 'image authenticity'
Australian marketers frequently look to the US to forecast trends and certainly in the world of political marketing and campaigning, the global giant delivers some interesting insights.
Hillary Clinton, Kevin McCarthy, and Michelle Obama all embrace social media to their advantage in highly visual social media campaigns comprising video and image content; subsequently positioning them more widely in the public area than political pages alone.
Congressman McCarthy, recently featured in a BuzzFeed article titled, '18 Reasons This Is The Best Republican On Instagram', prompted many voters to look at the candidate in a new light.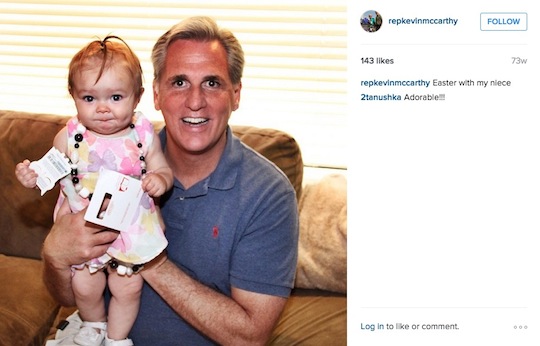 Even Donald Trump, with his recent, inexcusable comments uses social media in a way that demonstrates the value of timely messaging to a captivated (if not purely intrigued) audience.
It's easy to sell a politician – it's harder to sell a policy
Instagram's office in the US now has a specialist team focusing on political outreach programs, already making waves in the States.
As interest in the personal lives of high profile figures increase, politicians have a decision to make over how they manage their image and the stories they tell.
Politicians can use the 'aspirational' association that has worked so well for lifestyle and tourism brands, using this to their advantage. The platform doesn't support hyperlinks on posts, forcing politicians' social media teams to get creative around authenticity and how they impact their communities.
Instagram has the unique ability to humanise politicians, reignite their relevance with a disenfranchised public; sans the public discourse Twitter often brings.
Australia's social landscape
In light of the recent news, this brings to question: who will be the first to lead Instagram ahead of 2016's campaign?
There is a huge opportunity for Australian government departments to effectively adopt social media to promote and sell policies in a visually engaging way. Governments and public figures should apply the same marketing principles to their own campaigns to win over voters.
Politicians need to come off the pedestal and circle in the public into party room conversations. While traditional or conservative politicians are more inclined to 'play it safe': politicians could learn a few lessons from the new Prime Minister – especially one with nearly 9000 Instagram followers.
Sean Sammon is the general manager of government relations consultancy, Bastion S+GO.