Milkrun makes a name for itself with some cut-through copy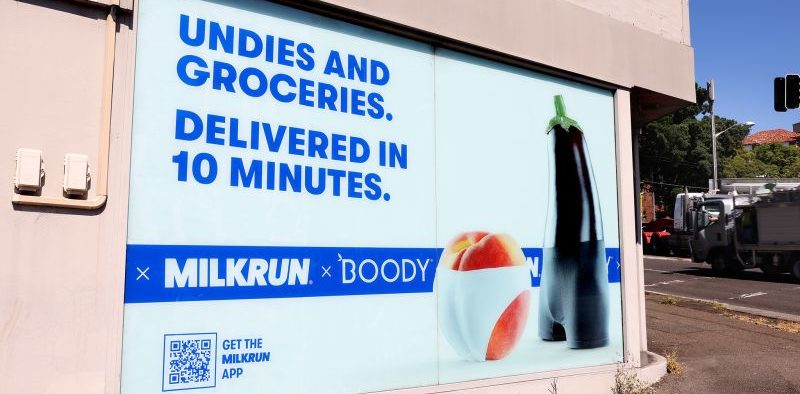 Mlikrun, the new startup by wunderkind Dany Milham of Koala fame, is worth a coveted follow on Instagram. And no, it's not for those who favour quick grocery deliveries. 
In addition to spreading the word about its offering, Milkrun's Instagram feed is basically a bonafide meme page. 
The new grocery delivery app made headlines last year with a billboard in Bondi offering "bags" in ten minutes or less. For those that didn't know, "bags" are slang for cocaine. As everyone definitely knows, certain Sydney suburbs are known for the substance. 
Remember the woman who interrupted a plainclothes cop mid-traffic stop to buy cocaine from the driver? That's where the billboard went up.
The ad got people talking. Facebook users were seen outing friends as enthusiasts of the colloquially known bags. Users recommending the service to friends. 
Milkrun's online presence makes it clear it's pitching the brand identity as cheeky and irreverent. And it's definitely working. 
It's a great strategy for multiple reasons. 
View this post on Instagram
It's cheap
Running a bitey social page costs a lot less than a multi-channel campaign. 
It builds a brand identity more efficiently
Milkrun is clearly a savvy company. It knows it's vitally important to present an image to potential customers that those users will want to buy into. It's not just about the service – there are other grocery delivery apps. This is about customer loyalty and lifetime value. 
Few customers are explicitly loyal to Woolworth's delivery service, which has been met with national criticism. Customers are likely to choose another option they perceive to be easier. So by creating a strong brand identity, Milkrun can build a customer base that is choosing them for more than convenience. 
It's organic
Followers are quick to share sharp-tongued replies and pisstakes. This means other social media users are more likely to interact with content shared by their friends, as it doesn't feel like "marketing". 
Milkrun doesn't just feel like an imitator, though. They understand the benefits of great social media posting, and they've imbued it with their own personal sensibilities. I suppose I'd call it "wholesome sarcasm". 
For example, the company posted a photo of a troll comment, as well as the reply. The response even included a coupon code for him (and followers) to try out Milkrun's service. 
View this post on Instagram
This sort of copy is what other brands are afraid to do. It's funny, cheeky, and youthful. It also encourages further engagement with the page. What does further engagement do? It assists in the algorithm. All of a sudden Milkrun is able to organically build its following.
It's a risk versus reward situation. Being offensive is one thing, but adopting that Australian tongue-in-cheek humour is something else. Brands are often afraid to ruffle feathers, but surely Milkrun is proving that feathers are prepared to be ruffled.