Top 10: 'Buster the Boxer' and 'We're the Superhumans' were the most shared ads of 2016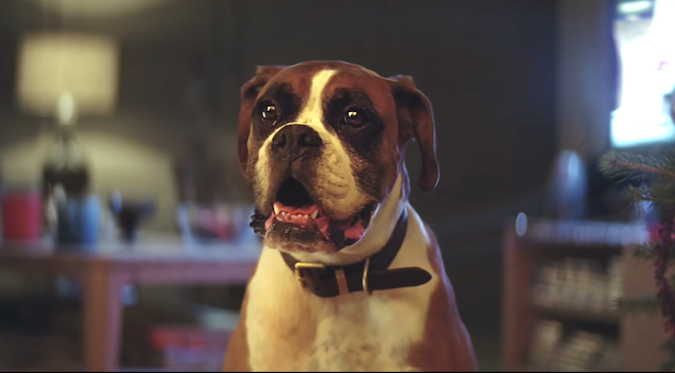 John Lewis' '#BusterTheBoxer' is the most shared ad of 2016.
Unruly has released its list of top shared ads of 2016, which is topped by UK retailer John Lewis' '#BusterTheBoxer' Christmas commercial.
The ad, which features an array of animals bouncing on a trampoline has been viewed over 20 million times on YouTube. According to Unruly it's been shared 1.95 million times across social since launching on 9 November, making it the fifth most shared Christmas ad of all time, and John Lewis' most shared ad ever.
The commercial with the most views was Nike's 'The Switch', with 57 million. 'The Switch' has been shared 970,000 times.
A theme notices among the top ads by Ian Forrester, global VP at Unruly was escapism.
"Times have never been more uncertain. Video advertising once again reflected the wants and needs of society and offered a powerful route to escapism for consumers," he says.
"The world's best creatives have drawn strength from uncertain times.
"Social video has dramatically evolved, brands are adding emotional intelligence to digital advertising and truly understanding storytelling, with John Lewis' ad eliciting intense feelings of warmth, happiness, hilarity and amazement in viewers," says Forrester of the top ad.
Here's the Top 10:
1. John Lewis, '#BusterTheBoxer'. 1.95 million shares, 20 million views.

2. Channel 4, 'We're the Superhumans' Rio Paralympics 2016. 1.85 million shares, 7.4 million views.
3. Shell, 'Best Day of My Life' #makethefuture. 1.68 million shares, 23.4 million views.

4. Vodafone, Ramadan 2016. 1.43 million shares, 7.4 million views.

5. OK Go and S7 Airlines, 'Upside Down and Inside Out'. 1.24 million shares, 5.2 million views.

6. Nike, 'The Switch.' 970,000 shares, 57 million views.

7. Doritos, 'Ultrasound.' 894,000 shares, 10.7 million views.

8. Ariel, '#sharetheload.' 877,000 shares, 2.57 million views.

9. Cadbury Dairy Milk, 'Aliens.' 853,000 shares.

10. 7-Eleven Thailand, 'Teachers.' 792,000 shares, 2.1 million views.

The rankings are based on the number of shares that ads on Facebook and Youtube attracted across Facebook and the blogosphere. As such, they are a measure of the ad's online buzz or virality, ranking ads by the volume of active pass-on rather than the passive, paid metric of video viewership.
Data was collected from 1 January to 29 November.