Native Advertising Demystified Part 3: The keys to success
This is the third of a three-part series on demystifying native advertising for Australian marketers. Chris Byrne investigates:
The native ad products of Australian publishers (link)
Measuring native: is it working? (link)
The keys to native ad success (you are here)
Native advertising, still relatively new to online publishers, highlights an interesting point about content: marketing and journalism are merging. Publishers are increasingly creating content specifically to grow their share of online readers. Similarly, brands are acting like publishers, creating content to attract more people to their message.
This convergence of content raises a question – do people care about the source of what they consume? The answer appears to be they don't, so long as content quality is comparable. Emma Rugge-Price, VP of communications at GE Australia and New Zealand – a brand that's been partnering with publishers for around 12 months – was initially sceptical readers would treat sponsored content the same as editorial. "I wasn't convinced about that when we started but it seems people don't care. We're finding they don't differentiate between developed content and the totally independent content." The brand has partnered with both News Corp and Fairfax locally, as well as titles such as The Economist globally.
GE: 'Path to Prosperity'
A research-based partnership with The Australian looking at challenges Australian businesses face across key industries. Six roundtable discussions were conducted on Sky Business, featuring GE experts from relevant industry sectors. The research findings were presented in an online P2P hub on The Australian website, editorial coverage in print and a weekly newsletter, and supported by co-branded ads. The content reached over 1.7 million print readers, one million online readers, 76,000 Sky News viewers and received 9507 video views.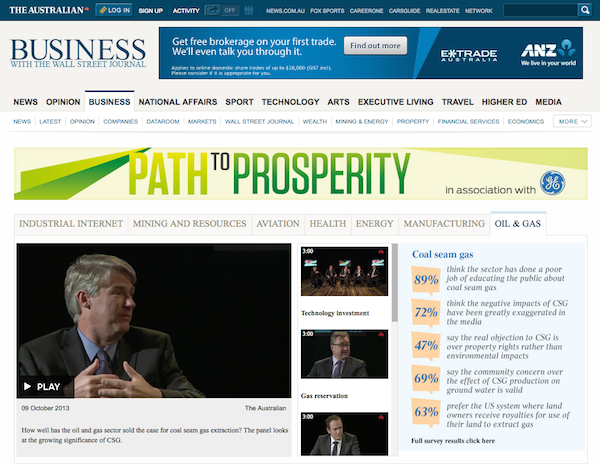 While most agree with Rugge-Price that quality of content outranks its independence, factors around its distribution complicate the situation. The old adage 'content is King' may still apply, but with control firmly in the consumer's court, context has become equally as important. "It's not enough anymore to just produce content," says Felix Krueger, emerging solutions specialist at Fairfax. "There's more content available than anyone can consume in their lifetime. It has to be relevant for users to engage."
The publisher distributed content widely across both online and offline platforms for a recent campaign for Zurich:
Zurich: 'Life's Landmarks'
To drive consideration of Zurich Life Insurance the brand partnered with Fairfax on a five-article, cross-platform campaign to align with specific cultural phenomena that play on the ideals of safety, protection, security and reliability. The series featured on all masthead home pages and in three features across The Age and Sydney Morning Herald print editions. The online content averaged a 2.08 minute engagement time, and reach was extended 56% across the print audience.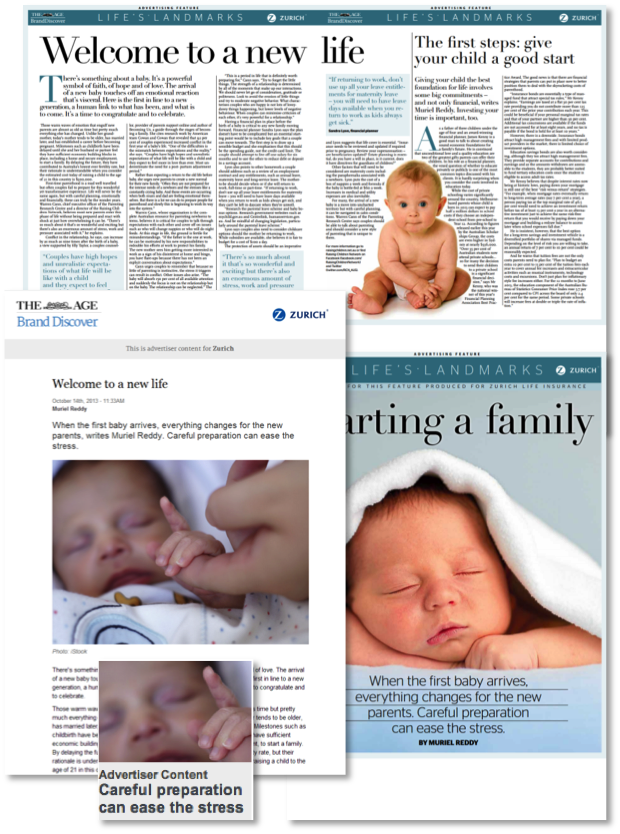 Tactical responses, such as Oreo's 'You can still dunk in the dark' tweet during a power outage at the 2013 Super Bowl, can be a brand's invitation to speak to consumers. Otherwise known as 'always-on' marketing, more and more brands are readying teams to work on events or topics that enable tactical response, BuzzFeed global revenue officer Andy Wiedlin notes. "If 'native' was the buzzword last year, 'always-on' is the buzzword for this year," Wiedlin says. "We're doing a lot more trending stuff because brands are really trying to do always-on marketing."
Virgin Mobile: BuzzFeed 24-7 Newsroom
To generate product interest and demand, Virgin Mobile partnered with BuzzFeed to create a 24-7 newsroom to respond to social conversations with interesting, timely, and brand-relevant content aligned with pop cultured. In 2012, the initiative resulted in 190 pieces of content and 9.7 million engagements for the brand. Research found the content positively influenced brand perception and increased purchase consideration.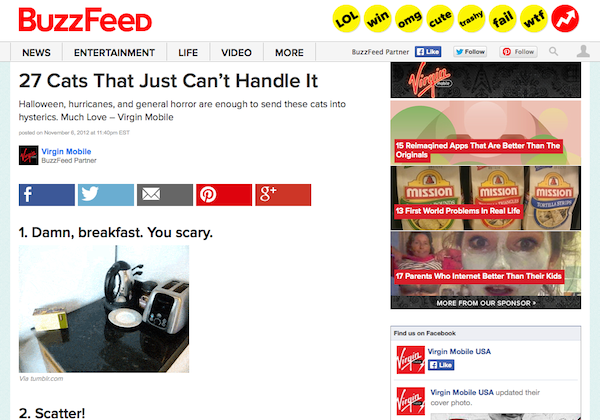 Delivery format is another factor Wiedlin sees as important. "We spent a lot of time trying to get quizzes right. The 'What city should you live in' quiz got 18 million views. With improving mobile bandwidth and video production skills, BuzzFeed is looking to video as the next sharing wave, investing in a production studio in LA led by video guru Ze Frank. "Advertisers and consumers love video… but you should tell a story with as much brevity and impact as possible," Wiedlin advises. "One thing that Ze says that's really interesting is usually when you tell a story there's a beginning, a middle and an end, but with internet video it's like there's an end, an end and there's end. It's all high impact; constant shock, delight and surprise people."
Trust is the most important ingredient to developing a relationship with a publisher, according to Lara Gardner, brand manager of Stolichnaya (Stoli). "You're putting your brand in their hands so you have to make sure you've got the right people on your team," Gardner says. Stoli, with over 50 pieces of native advertising already published across titles such as Junkee, inthemix, FasterLouder, Thousands and Russh, has committed to a six month program of native activity. "With a relatively low investment compared to other media channels, native is proving to have a successful reach with our target audience," Gardner says. "The point of native is to associate brands with great content, so placing advertising and the brand name around the content, helps the reader to join the dots."
Stoli: ORGNL.TV
51 pieces of content were commissioned across a range of publishers including Junkee, inthemix, FasterLouder, Thousands and Russh, to position the brand alongside art, fashion, taste and music, and drive visitors to the ORGNL.TV platform. Articles were accompanied with a 'Brought to you by' tagline and banner ads and skins pointing to ORGNL.TV website. From 43 native articles published on partner media sites, the content has received over 310,000 unique page views (within a three week window from date of publishing), while content also reached over half a million targeted Facebook users.

Marketing, and now advertising, is in the grips of a content revolution. Both crafts have realised that, with the consumer in control, content that puts the user first is often more effective. By making advertising a great experience for its consumers, it appears the native ad movement, if used responsibly, is a format where everyone – publisher, brand and consumer – wins.
Tweet the author: @penseive
Revisit previous parts of this series:
The native ad products of Australian publishers (link)
Measuring native: is it working? (link)