realestate.com.au adds Travel to Lifestyle content suite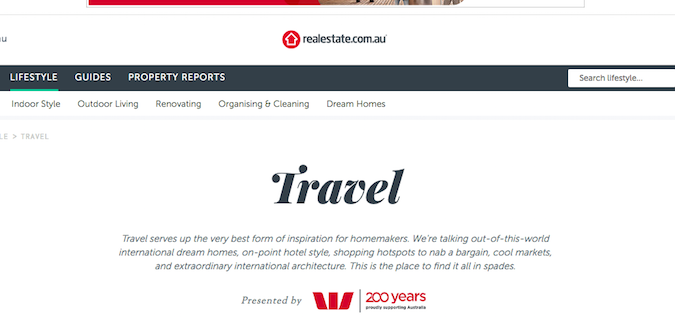 realestate.com.au has launched Travel, a new vertical as part of its popular Lifestyle content experience.
Travel joins existing Lifestyle categories Renovating, Indoor Style, Outdoor Living, Dream Homes, and Organisation and Cleaning, with the aim of providing Australians with a 'one stop shop' for all their inspiration and insights needs.
To boost social presence, Lisa Hamilton, the popular social media influencer better known as See Want Shop has partnered with realestate.com.au to bring bespoke travel editorial and content to the Lifestyle platform.
Hamilton will also promote the Lifestyle platform to her own audience and be involved in an Instagram takeover.

"There's a huge audience demand for travel and travel-related content on realestate.com.au/Lifestyle," says Mark Roppolo, REA Group executive manager of content and production. "We have an audience who love to travel and take design, architecture and lifestyle information from around the world to bring back to their homes in Australia."
"We've been trialling travel related content for some time and it's already attracting huge attention and engagement."
Content will include a step inside a $100 million New York apartment, a Sri Lankan eco resort and Italian homes on sale for one Euro.
Further reading