Tourism Australia extends Dundee campaign with Luke Hemsworth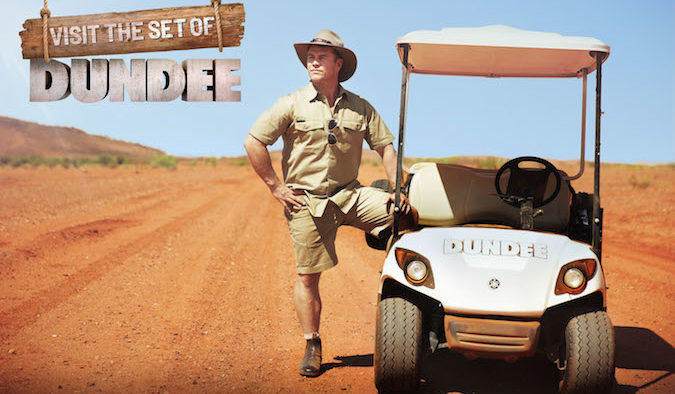 Tourism Australia has launched the next phase of its $36 million Crocodile Dundee campaign, inviting Americans to explore the set of the movie with Luke Hemsworth.
The second phase of activity, 'Visit the Set of Dundee: Son of a Legend' builds on the momentum of the 'Dundee: The Son of a Legend Returns Home' campaign which was unveiled at the Super Bowl in February.

This time, Luke Hemsworth is the star, replacing brothers Chris and Liam who appeared in the original trailer alongside other Australian stars like Hugh Jackman, Margot Robbie and Paul Hogan.
The $8 million campaign developed by creative agency Thinkerbell, features a video by production company Revolver and directed by Sarah Bishop. The ad follows Hemsworth as he takes Americans on a backlot tour of Australia, which is portrayed as a giant set, purpose-built for the Dundee movie.
"The next iteration of the campaign really is an extension of the same light-hearted, humorous take on Australia that was such a key part of the Super Bowl ad," says Tourism Australia CMO Lisa Ronson.
Australia's Minister for Trade, Tourism and Investment Simon Birmingham says this next phase of the award-winning campaign would ensure Australia remains front-of-mind for US travellers. "The US is one of Australia's largest and most valuable tourism markets with more than 780,000 American visitors spending $3.8 billion per year in Australia."
Since its launch, the Dundee campaign has reached more than nine billion people and has generated nearly 14,500 news articles with an equivalent advertising value of more than $45 million.
"The challenge for us is to convert interest into action and get potential visitors on a plane headed Down Under," says Birmingham.
Tourism Australia MD John O'Sullivan says the continued focus on the US is part of the agency's renewed approach with fewer, bigger, bolder and more impactful campaigns.
"It is crucial that we maintain the momentum it generated and continue to capture the attention of high value American travellers," he says.
The new phase features destinations from each of Australia's states and territories, and is supported by Qantas, Expedia, state and territory marketing organisations, and nine key distribution partners in the US market.
Activity will run from October to December to coincide with the peak travel booking season for the US market. It will roll out in additional markets including the UK.
In August, Marketing spoke with Ronson about the Dundee campaign and working with partners on large scale projects.